Target: £70,000
Donations: £58,788
Gift Aid: £10,177
Total: £68,965
(as at 5th February 2016)
Still to raise: £1,035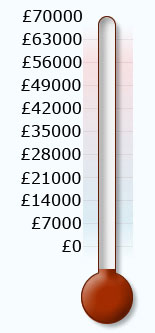 2015 Christmas Appeal - Connect & Grow, Speak & Serve
I would like to donate the following amount:
Your gift this Christmas will make a real difference in 2016:
£10 pays for a free copy of Foundations for a FY1 graduate
£50 covers the subsidy for a student member to attend the Student Conference
£100 puts Nucleus magazine into the hands of 100 students
£100 covers the cost of a student leader attending the National Conference
£250 keeps a part-time regional Student Staffworker on the road for a week
£500 sponsors an international student leader for one week of training
£1,000 covers the cost of an evangelism day conference for 40 students
£1,500 covers the cost of Tropical Doctor given free to CMF members working in resource poor countries
£3,000 covers the cost of publishing a 50 page booklet like Facing Serious Illness. CMF is planning three new titles for 2016.
Please read the appeal letter for more details of the appeal.
If you wish to make a donation by cheque or charity voucher, please print our appeal response form which contains details of our Freepost address.