Micah's Challenge - The Church's Responsibility to the Global Poor
<< back to bookstore frontpage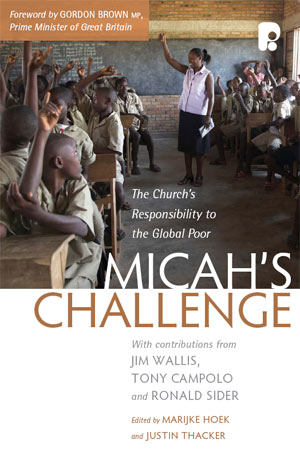 Order Ref: Mic0809
Published by: Paternoster Press (2008)
Author: Marijke Hoek and Justin Thacker (Editors)
ISBN: 978-1842276068
Price: £7.00(RSP: £9.99, save £2.99)
In this new book, the prophetic word of Micah to "act justly, love mercy and walk humbly with your God" (6:8), is explored for its application to today's church.
Drawing together insights from Jim Wallis, Tony Campolo, René Padilla, Joel Edwards, Ron Sider, Njongonkulu Ndungane, and others, Micah's Challenge explores the theological, ethical and practical dimensions of this call to act with justice, mercy and humility.
Micah Challenge represents one way in which the international Christian community has responded to this challenge by campaigning for the delivery of the Millennium Development Goals. It unites Christians from both hemispheres, urging our respective governments to grasp this historic opportunity to deliver on the promises they have made.
Following an introduction on the history and vision of Micah Challenge, the chapters move from biblical and theological reflections on issues of poverty, through more practical explorations of social ethics, to a corporate and personal call, which asks the question, 'What are we doing about all this?'
Micah's Challenge looks set to be a book that not only calls Christians to think afresh and act redemptively as individuals and as communities, but speaks prophetically into a culture asking what can be done in a world of great need.
All orders are subject to availability