doctors - events
National Conference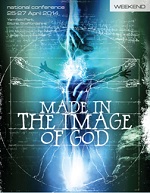 When: 25-27 April 2014
Where: Yarnfield Park, Stone, Staffordshire
Hosted by: CMF

Book Online
Full details and printable brochure
To download the PDF, right click on the link above and select 'Save Target As...'
Our first parents entered a world without sin, death or decay; they left it in the grip of all three, in what Paul calls 'bondage to corruption'. Understanding our beginnings will help us to understand ourselves and the world we live in. As in so many other areas we will discover that truth is stranger (and often more complex and 'thick with meaning') than fiction.
The National Conference brings together members at all stages of their career. There are separate seminar tracks for:

* All Doctors
* Junior Doctors
* Student Leaders (by invitation only)

Families with children welcome - come and join us for a great weekend together!
Venue: see www.yarnfieldpark.com for details
Speakers
Liam Goligher is a native of Scotland who studied history and theology in Ireland and Canada and holds a Doctor of Ministry degree from the Reformed Theological Seminary in Jackson, Mississippi. Liam has pastored churches in Ireland, Canada, Scotland and England, and currently serves as senior minister at Tenth Presbyterian Church in Philadelphia, Pennsylvania. Liam is married to Christine and they have five children, six grandchildren and a dog, Chloe.
Dr Vinod Shah is Chief Executive Officer of ICMDA (International Christian Medical and Dental Association). He initially trained as a general surgeon (and as a paediatric surgeon) at the Christian Medical College, Vellore and later served as the Director of Emmanuel Hospital Association. The next move was devoted to starting a distance education and telemedicine programme for training GPs in India before taking up his present position. Vinod is married to Shalini, who is a specialist in Child and Public Health. They have three children, all working in scattered locations - Canada, USA and China.
Seminars
General track
1. Impacting your workplace for Christ
Expressing your faith at work
Rachel Nunn and Stephanie Moss
Stephanie Moss is a GP in Sparkhill, Birmingham and CMF Graduate Associate Staffworker. Rachel Nunn is a GP in Leeds.
2. The Human Journey
Exploring the interface between faith and medicine
Peter Saunders is CMF Chief Executive.
3. Family matters
Bringing up your Christian family with the pressures of a medical career
Kevin and Sheila Vaughan
Kevin is a former GP and Chairman of ICMDA. Sheila is a wife and home-maker.
4. Serving across cultures
Medical work in other cultures
Vicky Lavy is CMF Head of International Ministries and worked in Malawi for ten years.
5. Current ethical issues
Philippa Taylor is CMF Head of Public Policy.
6. Encourage one another
CMF local networks
Mark Pickering and Julian Churcher
Julian Churcher is a former GP and CMF Graduate Staffworker, London amp; SE. Mark Pickering is a prison GP in Yorkshire and was formerly head of CMF Student Ministries.
7. Managing your finances
Financial discipleship
Marcus Watkins is an accountant and former Head of Administration at CMF.
8. Poverty and corruption in the developing world
Vinod Shah
Juniors' Track
9. Being managed and managing others
Rhona Knight and Mark Cheesman. Rhona Knight is an Academic GP in Leicestershire. Mark Cheesman is a retired Consultant Geriatrician in Bristol.

10. Relocation, relocation, relocation

11. Building a portfolio career
Peter and Catriona Waitt
Peter is a Freelance GP and Acute Medicine Registrar. Catriona is a NIHR Clinical Lecturer in Clinical Pharmacology.
12. Going for a substantive post
Julia Thomas is a Consultant Endocrinologist in Taunton.