juniors - events
National Conference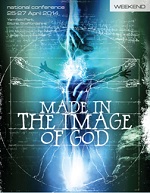 When: 25-27 April 2014
Where: Yarnfield Park, Stone, Staffordshire
Hosted by: CMF

Bookings are now closed. Please call the office on 020 7234 9660 if you have any questions.
The CMF National Conference is a great opportunity to meet other Christian doctors, both working and retired - medical student, nurse or junior – from a wide range of specialties. Delegates come from across the UK and Ireland – even overseas, for a weekend of great teaching, seminars and worship. There's also excellent food and times to relax in comfortable surroundings at our new venue, Yarnfield Park in Staffordshire.
Our topic this year is 'Made in the image of God', where we'll be able to dig deep into God's word and discover our true identity and value as deeply loved children of the King, living and serving Christ in medicine.
Watch this video below to find out more.
Full details and printable brochure
To download the PDF, right click on the link above and select 'Save Target As...'
The National Conference brings together members at all stages of their career. There are separate seminar tracks for:

* All Doctors
* Junior Doctors
* Student Leaders (by invitation only)

Families with children welcome - come and join us for a great weekend together!
Venue: see www.yarnfieldpark.com for details
Speakers
Liam Goligher is a native of Scotland who studied history and theology in Ireland and Canada and holds a Doctor of Ministry degree from the Reformed Theological Seminary in Jackson, Mississippi. Liam has pastored churches in Ireland, Canada, Scotland and England, and currently serves as senior minister at Tenth Presbyterian Church in Philadelphia, Pennsylvania. Liam is married to Christine and they have five children, six grandchildren and a dog, Chloe.
Dr Vinod Shah is Chief Executive Officer of ICMDA (International Christian Medical and Dental Association). He initially trained as a general surgeon (and as a paediatric surgeon) at the Christian Medical College, Vellore and later served as the Director of Emmanuel Hospital Association. The next move was devoted to starting a distance education and telemedicine programme for training GPs in India before taking up his present position. Vinod is married to Shalini, who is a specialist in Child and Public Health. They have three children, all working in scattered locations - Canada, USA and China.
Seminars
General track
Juniors' Track
Student Leaders' Track
This will run concurrently with other seminars but is only available for student leaders.
Rendle Short Lecture
This year's Rendle Short Lecture will be delivered by Dr Vinod Shah, who will be speaking on the topic of 'The grand narrative of our vision and its implications'.

Objective: Though superficially similar, even the best secular vision and their approach to the work of healing falls far short of what we in the ICMDA family are envisioning.

Six radical differences between the secular vision and the Christian vision will be recounted, and the global vision of ICMDA painted.

Our vision is a person – Christ. This is the 'grand narrative' understanding of a vision. We are not driven by ideology or goals with a view to changing the world, unless they serve Christ. Examples from the lives of Ignatius of Loyola and Robespierre will be given to clarify this. The grand narrative is more likely to transform both the world and the person
Suffering is seen as 'redemptive' rather than as 'punitive' (eastern) or 'meaningless' (secular, western). This helps manage suffering more positively. Examples will be given from the lives of Corrie ten Boom and Elie Wiesel


A patient is seen as a 'person' (biblical) rather than as an 'individual' (secular). A person is connected but an individual is atomised. The examples of 'Greytown' in The Great Divorce (CS Lewis) and the desert monks can help clarify this. Implications for the Christian doctor if his patient is a 'person' will be explored

Knowledge is seen as a 'service' tool rather than as a 'power' tool (peddlers of knowledge – Pope Ratzinger in his Infancy Narratives) or as an object of worship figuratively (secular West) or literally (Goddess Saraswati or Episteme)
Treatment is not driven by what a patient wants (customer orientation) but by what he needs as objectively understood from the wisdom of the Bible. This can have ethical implications


Christian medical excellence is judged by 'relevance' and relevance is about embracing reality. Stories of Paul Brand and Cochrane from Vellore can help clarify this.