PRIME Partnerships in International Medical Education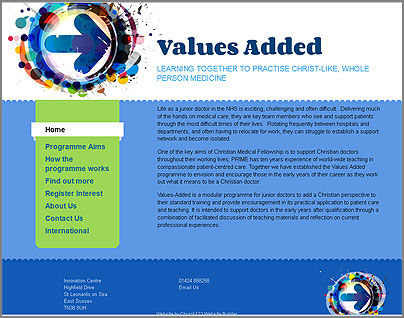 The Values Added Programme designed by PRIME and CMF to help junior doctors express their faith in everyday practice is now being launched across the UK. Aiming to help doctors develop a practical approach to Christ-like whole person medicine, it presents topics for discussion and exploration in a modular format that gives a flexible structure for guided study. The Programme also provides an opportunity for fellowship and encouragement during a period of early professional life that can be both challenging and isolated.
We are now making the Programme widely known and seeking to link interested doctors in grades FY1 to ST2 with our growing number of Facilitators, who are keen to host regular small-group meetings.

Please visit www.values-added.org, a new web-site that carries updated information about the Programme (including an outline of the first Module) as well as easily-completed forms enabling anyone to get involved or find out more.
What's it like being a junior doctor? Rachel Hubbard describes her first year as a doctor in this article from CMF's student journal Nucleus