Operation World
<< back to bookstore frontpage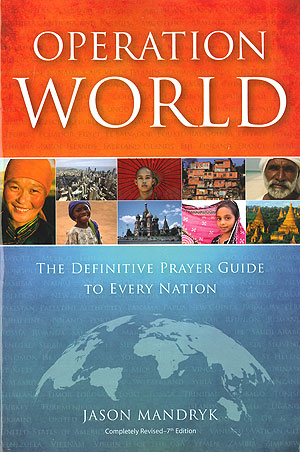 Order Ref:
Published by: Biblica Publishing (2010)
Author: Jason Mandryk
ISBN: 9781850788621
Price: £13.00(RSP: £18.99, save £5.99)
If you want to have a powerful and meaningful prayer life, if you want to impact the nations for Christ through prayer – Operation World is for you. Join millions of praying people around the world using this book to inform, inspire and ignite their prayers.
When you hear a country mentioned in the news or in a conversation and you want to know more about it and what God is doing there – this book will help you. Engage your heart and mind in global prayer with this thoroughly researched, fully updated seventh edition. It is loaded with clear, concise, accurate information on peoples, languages, religions, denominations, spiritual trends and prayer needs – for every country in the world, from the largest to the smallest.
Operation World's easy-to-follow summaries of every nation include:
Timely challenges for prayer and specific answers to prayer
Updates on church growth, with a focus on evangelicals
Population, people group and language statistics
Charts and maps showing global religious and demographic trends
Explanations of major currents in economics, politics and society
All orders are subject to availability