Christian Beliefs
<< back to bookstore frontpage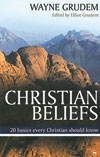 Order Ref:
Author: Wayne Grudem
ISBN: 9781844744862
Price: £5.00(RSP: £9.99, save £4.99)
The condensed version of the much larger Systematic Theology, this is definitely a 'must-read' as it covers the ground work of what it means to be a Christian. It touches all the big and sometimes hard-to-grasp topics, like election and justification, in a very readable way. It's not all you need to know, but an opening into discovering more about what the Bible teaches. Each of the 20 chapters deals with a different topic, always based on the Bible. One of the book's most helpful aspects is that each chapter ends with some questions to ponder, which really helps to solidify what you've read. It is useful both for new Christians and for those not so new, as it covers areas we sometimes don't engage with; with chapters on the final judgment, or angels and demons. It is even a means to engage with friends who are interested in finding out more about Christianity.
Review by Emmanuel Oladipo, Manchester
This title is available to UK & Irish CMF students at a discounted price via the Take and Read pages
All orders are subject to availability