A force for hope
What could God do with a movement of nurses and midwives who know and love Jesus in all they think, say and do?
How could they transform our health service, our profession and our nation?
How can you be part of growing such a force for hope?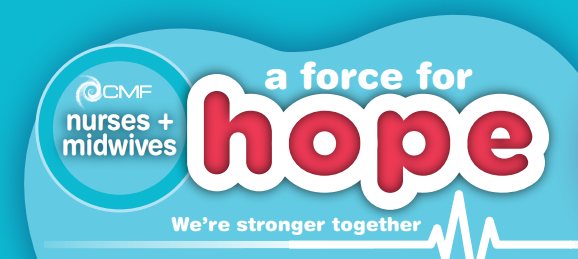 Upcoming events to invite nurses and midwives to:
24 April 2021 - CMF National Online Conference - Gospel 24-7: Whole-life gospel, whole-life practice - there will be extra sessions and seminars specifically for nurses and midwives Friday 23 April at 8pm, and Saturday 24 April at 5pm - see cmf.org.uk/nationalconference for more details.
5 -11 May 2021 - Week of Prayer for Midwives
12-18th May - Week of Prayer for Nurses
15 May 2021 - NAMfest - an online festival for nurses and midwives, featuring The Archbishop of Canterbury, Justin Welby, Christian singer songwriter Lauren Daigle, Pete Greig of 24-7 Prayer, and worship led by Tim Hughes - for more information see cmf.li/NAMfest-21
9-11 July 20201 - Nurses Christian Fellowship International Virtual World Congress - Opportunities and Challenges in Nursing Today: A Christ Centered Response. There will be a special UK delegate virtual lunch on Saturday 10 July
See ncfi.org/events/ncfi-world-congress-2021/ for more information and to book your place!
16th October - Salty and Sweet: a morning taster Saline Solution course (witness at work) followed by an afternoon of virtual cream tea baking and eating together - more details coming soon.
More events and resources will be appearing on this page in the coming weeks - watch this space!