associates - events
CMF National Week of Prayer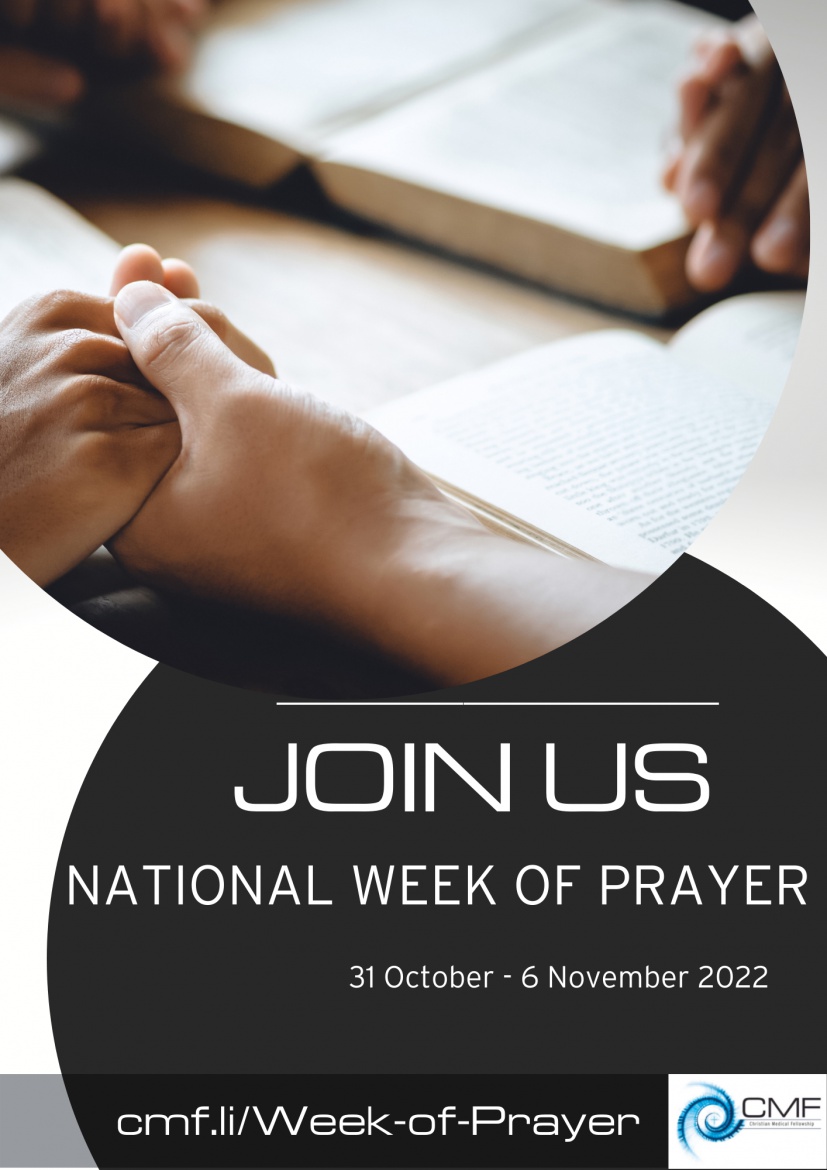 When: 31 October - 6 November 2022
Where: Location not yet confirmed.

Most of us working in healthcare have just faced some of the toughest years we have ever experienced. For some of us, it has been a testing, traumatic time. For others, it has been hard but we have seen God working and found joy and encouragement. For others, it has barely registered.
Whatever your experiences, and whatever challenges you now face, many will feel the need to come together as God's people in healthcare to bring our thanks, fear, hopes, cries of pain and lament to our heavenly Father. As Paul encourages us, 'pray in the Spirit on all occasions with all kinds of prayers and requests'.
So, please join us online nationally, locally in-person and on Zoom for a national prayer week for all those working in healthcare in our nation and around the world.
Schedule of events
Monday 31 October - National Prayer Zoom meeting from 7:30-8:30pm. Join us for a one hour introduction to the week and a chance to pray in large and small groups.
Tuesday 1 November - prayer for students, especially first years just a couple of months into term
Wednesday 2 November - for the newly qualified - FY1 & 2s ready to change to next placement in a few weeks, newly qualified nurses and midwives just started first post-qualification jobs in the last month
Thursday 3 November - GPs and all those working in primary care
Friday 4 November - local issues in hospital and community health settings
Saturday 5 November - prayer for one another - national Zoom meeting with breakout rooms - between 12 and 1pm
Sunday 6 November - getting the whole church to pray.
some prayer resources for local meetings
You can find some other prayer resources and ideas that you can use to run prayer events in your workplace, place of study, or local group, on the West Midlands Catalyst Team's [un]burden website.
More information will appear on this and other websites in the coming weeks, including registration details for the Zoom meetings, and more detailed prayer points.