doctors - events
Developing Health Course 2019 - CANCELLED DUE TO STAFF SICKNESS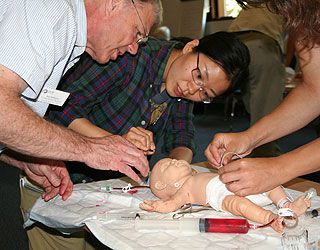 When: July/August 2020 - dates to be confirmed
Where: London School of Theology
Hosted by: CMF

The 2019 Developing Health course has been cancelled due to the illness of a key staff member. We are sorry for any disappointment. The course will run again in 2020 and dates will be posted as soon as they become available.
General information about the course below:


Healthcare in global settings for doctors, nurses, midwives and other health professionals
The DHC takes place annually in July/August at the London School of Theology in North London. Accommodation and food is included in the course cost.
The course is designed to update, equip and inspire people who are committed to global health, whether you are preparing to go, returning after a break or considering the possibility of service abroad.
The course material now emphasises the broader context of healthcare across the world; strengthening healthcare systems, specific healthcare interventions as part of an integrated and multi-disciplinary setting, and learning to lead, learn and teach in such settings.
The course is taught by a broad range of highly experienced and skilled doctors, nurses and midwives who all have experience of working in global health and mission.