doctors - events
HEARING GOD IN HEALTHCARE A Doctors' Day Retreat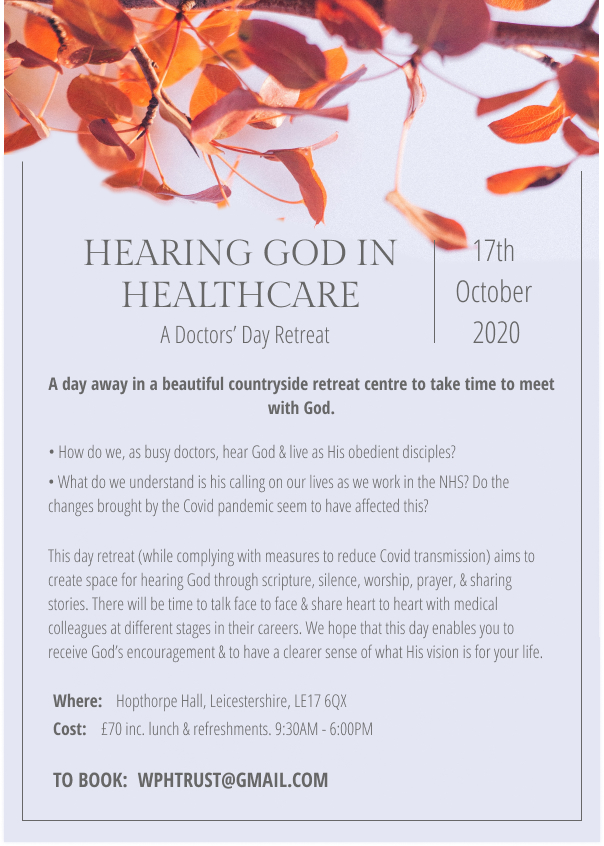 When: Saturday 17 October 2020
Where: Hothorpe Hall, Leicestershire, LE17 6QX
Time: 9:30AM - 6:00PM

To book: wphtrust@gmail.com
A day away in a beautiful countryside retreat centre to take time to meet with God.
How do we, as busy doctors, hear God & live as His obedient disciples?
What do we understand is his calling on our lives as we work in the NHS? Do the changes brought by the Covid pandemic seem to have affected this?
This day retreat (while complying with measures to reduce Covid transmission) aims to create space for hearing God through scripture, silence, worship, prayer & sharing stories. There will be time to talk face to face & share heart to heart with medical colleagues at different stages in their careers. We hope that this day enables you to receive God's encouragement & to have a clearer sense of what His vision is for your life.
Cost: £70.00
To book: WPHTRUST@GMAIL.COM