doctors - events
Junior Doctors conference 2021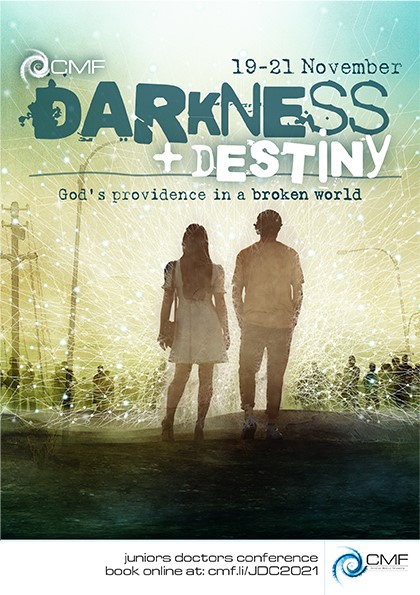 When: 19 - 21 November 2021
Where: The Hayes Conference Centre
Time: Registration starts at 5.30pm
Hosted by: CMF

Book for this event here - please open booking link on Google Chrome web browser
CMF JUNIOR DOCTORS' CONFERENCE 2021 PROGRAMME
To download the PDF, right click on the link above and select 'Save Target As...'
Darkness and destiny - God's providence in a broken world
Isaiah looks on as the lights go out. Rejection of God. Social injustice. Imperial aggression. Defeat and despair. How do we understand God's sovereignty in such a broken world?
We grapple with the same problems in our broken world today and especially so, given the darkness and seeming hopelessness of the pandemic. Where is God? Is he still in control of the world and all that is happening? How is he working out his purposes? How do we make sense of it all?
Yet even as Isaiah's warnings went unheeded, promises of an extraordinary destiny kept coming - not just for his people but also for the whole world. Promises of restoration and forgiveness, of an international people of God and a new earth for them to inhabit. A vision of God's servant, somebody who somehow, at great cost, would bring it all about.
We live and work in a world which sometimes feels increasingly dark. Rarely has Isaiah's proclamation seemed more relevant.
Come and join us at this year's Junior Doctors' Conference to be reminded of the providence of God and our destiny in his plans.
Main Speaker: Dr David Randall
Talk 1: 'Lift your eyes'
Isaiah 40. The sovereign God: we need not despair
Talk 2: 'Listen, you islands'
Isaiah 49. God's servant: blessing for the whole world.
Talk 3: 'See, my servant'
Isaiah 53. The Cross: Jesus takes on death
CMF is thankful for the generous donations of members which permit us to provide these events. If you would also like to donate to our organisation, please click here.