doctors - events
National Conference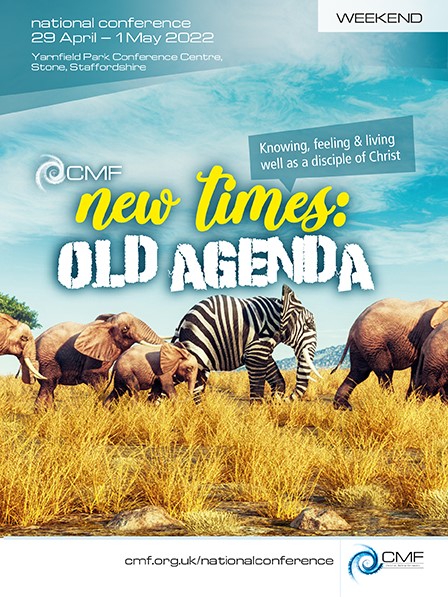 When: 29 April - 1 May 2022
Where: Yarnfield Park, Stone, Staffordshire, ST15 0NL
Hosted by: CMF

New Times: Old Agenda
Knowing, feeling and living well as a disciple of Christ
In a period of exceptional change, it is easy to feel disorientated. Usual ways of thinking don't seem to fit. Normal patterns of behaviour seem inappropriate. It can be unsettling. Of course, the way we each react to new situations will vary. Some feel fearful and anxious, others get irritated and angry. But is there a gospel way to navigate these things?
The Christian faith speaks of a God who never changes and a truth that is eternal. Yet how, exactly, does this knowledge of God engage our troubled hearts and calm our anxious souls? What is the connection between the truth we know and the emotions we feel? Should Christian disciples simply accept their emotions, whatever they happen to be, or should they seek to alter them, and even control the emotions they feel?
Over the course of this conference we will explore how a knowledge of God's character and an experience of his grace can shape our emotional world and help us live more fully for Christ in whatever situation we face.
Bible Talks
Anxiety and the fatherhood of God: Luke 12:22-34
Anger and the glory of God: Romans 12:17-21
Joy and the grace of God: Philippians 2:12-18
Our Bible teacher will be Steve Midgley who lives and works in Cambridge. He is married to Beth and they have three adult children. His interests include rowing and running as well as enjoying contemporary novels and films. He has been in full time pastoral ministry for 25 years, currently serving as senior minister of Christ Church, Cambridge. He previously worked in psychiatry, and this background prompted his interest in the biblical counselling movement and to the formation of Biblical Counselling UK, which he now serves as Executive Director.
Further details of seminars will be coming over the autumn, and online booking will open in January 2022