doctors - events
Scottish Conference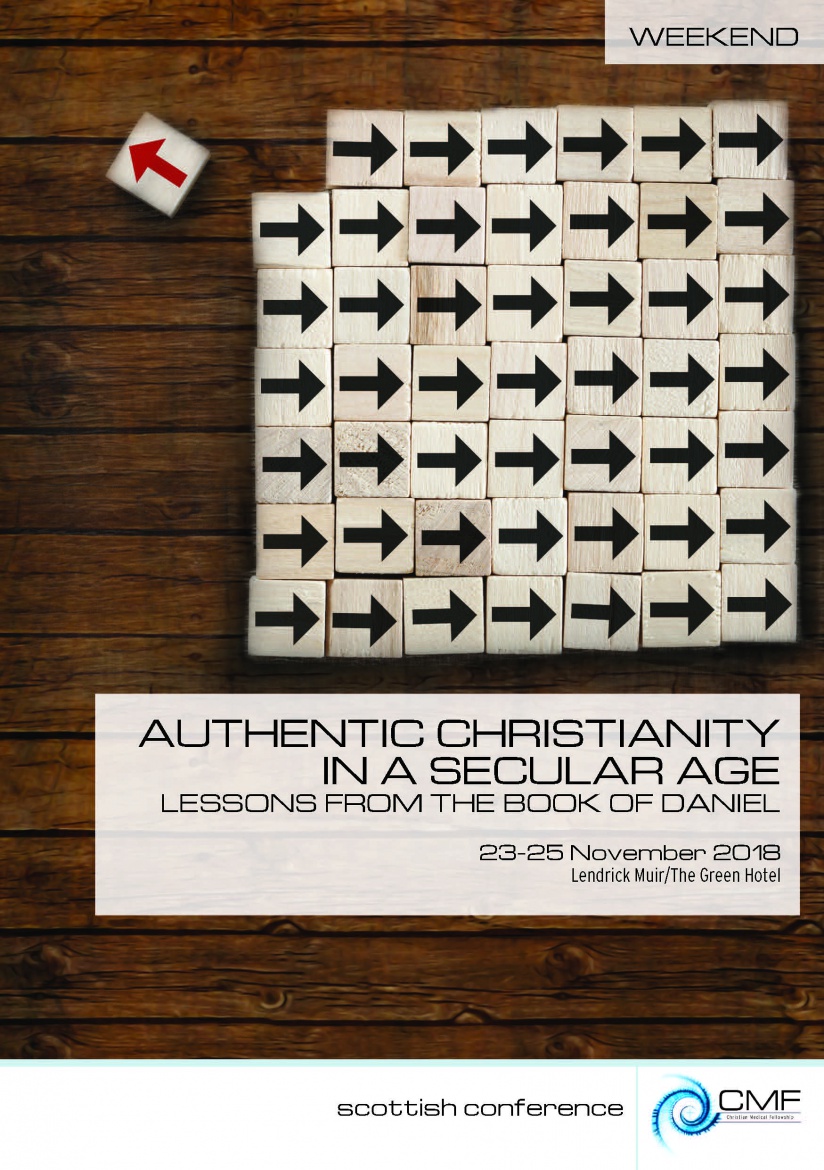 When: 23-25 November 2018
Where: Lendrick Muir
Time: Registration from 17:30 on Friday 23 November
Hosted by: CMF

Click here to book online.
Click here to download full conference details and postal booking form
To download the PDF, right click on the link above and select 'Save Target As...'
Authentic Christianity in a secular age: lessons from the book of Daniel
Life in the UK has become very complex for Christians as our culture is increasingly hostile to the Bible's worldview and intolerant of anyone who will not conform to the new liberal morality. Christian medics are at the forefront of this culture war. Daniel was a brilliant young man who lived in a similarly hostile culture which put him under extreme pressure to comply with its value system. He found the strength to resist and the wisdom to be discerning in a context which he could do nothing about. Over the weekend we will study his life and ask what we can learn as Christians today.
SPEAKER
Stephen McQuoid grew up in a mission family in Ethiopia before moving to Ireland where he worked as a nurse before going on to study theology and the history of Christian thought at various institutions. He has written fifteen books on church related issues and apologetics and is General Director of GLO Europe, a missionary organisation focused on church planting and evangelism throughout Europe. His interests include sport, reading and bikes and he and his wife Debbie are leaders at Liberty Community Church in Bellshill. They have three children.
*RETIREES' TRACK
We would like to welcome as many retirees as possible but are aware that youth centre accommodation might not be suitable. An alternative accommodation option is available to retirees at the Green Hotel for a room rate of £65/night B&B for single occupancy and £75/night B&B for double occupancy, in addition to £65 payable to CMF for attending the weekend. There will be 'House Parents' staying with the hotel group to facilitate prayer and fellowship in the evenings.
To opt for this, please click the 'whole weekend' option when booking online using the link at the top of the page, and contact Natalie Lee at events@cmf.org.uk or on 020 7234 9670 for a reference number to be quoted when you book directly with the hotel.
PROGRAMME
FRIDAY 23 NOVEMBER
17:30 Registration
18:30 Dinner
20:30 BIBLE READING 1
Stephen McQuoid
21:30 Refreshments
22:00 STUDENT/JUNIORS SESSION
SATURDAY 24 NOVEMBER
08:00 Prayer meeting
08:30 Breakfast
09:30 CMF UPDATE
John Greenall, CMF National Field Director
10:00 BIBLE READING 2
Stephen McQuoid
11:00 Refreshments
11:30 SEMINARS
12:30 Lunch (followed by free time/activities)
15:45 Refreshments
16:15 SEMINARS
17:15 On the Frontline
18:00 Dinner
19:30 SEMINARS
20:30 Evening entertainment
SUNDAY 25 NOVEMBER
08:30 Prayer meeting
09:00 Breakfast
10:00 On the Frontline
BIBLE READING 3
Stephen McQuoid
11:00 FAMILY SERVICE & COMMUNION
12:30 Lunch and depart