developing health course - dhc
Dates: 12-24 July 2020, London School of Theology, Northwood.
The course is designed to update, equip and inspire doctors, nurses and other healthcare professionals who are committed to global health.
The course material emphasises the broader context of healthcare across the world and each day covers topics like global health, medicine, mental health, paediatrics, surgery and women's health. There are also a couple of sessions on problem solving in areas such as HIV, palliative care, managing an epidemic and emergency medicine.
Teaching is given in a Christian context but participants of other faiths and none are welcomed and have benefited from the course in previous years.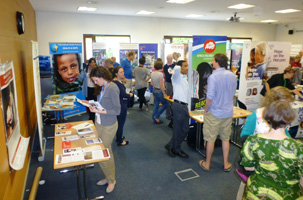 Mission Fair
- Wednesday 15th July
Is a unique opportunity to meet representatives from mission agencies and support organisations involved in medical work. The fair is held during the course but is open to all healthcare professionals, whether part of the course or not.
Admission is free.
In 2018 over 20 organisations exhibited, including SIM, CMS, Interserve, Medair, AIM, Mercy Ships, All Nations Christian College and others. This will be a feature in this years course as well.
Course Leaders
Fi McLachlan - Course Organiser, Head of CMF Global

Dr Ian Spillman MRCP FRCPCH DA DTM&H DCH - Medical Director, Kisiizi Hospital, Uganda
Dr Mhoira Leng MBChB MRCP FRCP - Medical Director, Cairdeas International Palliative Care Trust, Uganda
Dr Louise Day MA MBBS MRCPCH MRCOG DFSRH DTM&H - London School Hygiene and Tropical Medicine
Dr David Moore MBChB MRCP MRCGP DRCOG DTMH - General Practitioner, New Tribes Mission Clinic, Papua New Guinea
Prof Barbara Parfitt CBE DHC PhD RN RM FNP ALBC - Emeritus Professor
Course Administrator
Liz Flores Silva - CMF Global Coordinator

Comments
The Developing Health Course has been running for over 50 years, equipping hundreds of doctors, nurses and allied health professionals for work in resource-poor settings. Previous participants have commented:
'This is by far the best course I have ever attended'
'We have really enjoyed every moment of very day on this course. We have found it challenging, inspiring, informative & applicable'
'All that I was hoping for and more'
'This course is excellent! It's good for the young ones who are planning to go, for the older ones who are in the thick of it and old people, like me, who are looking to see where God can use them in the last lap!'