developing health course
Healthcare in resource-poor settings for doctors, nurses, midwives and therapists
Two week course, 2 July - 14 July 2017 at London School of Theology, London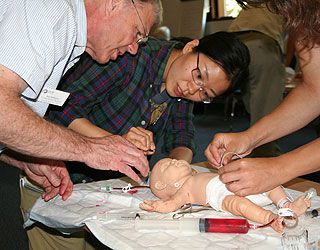 Two week course on healthcare in resource-poor settings
Update for those already working overseas
Preparation for those planning to go
Networking and information for those exploring possibilities
Lectures, practical skills workshops, tutorials
Daily Bible teaching, prayer and reflection
Fees for the course cover accommodation and meals.

Week 1 includes: global health, HIV, strengthening health care systems, paediatrics, tropical medicine, general medicine, trauma and orthopaedics.
Week 2 includes: surgery, women's health, mental health, migration, trauma and orthopaedics.
Nurses: 2017 sees the roll out of a new nurses 'stream' of learning together about nursing in resource poor countries. Come and be a part of this!
Course details
If you prefer not to book online, a printable booking form and full course details are available here.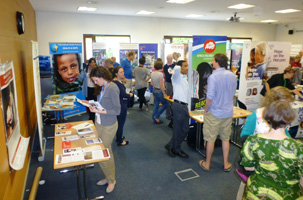 Mission Fair, Wednesday 5 July 2017
A unique opportunity to meet representatives from mission agencies and support organisations involved in medical work. The fair is held during the course but is open to all healthcare professionals whether part of the course or not.
Admission is free.
In 2016 over 20 organisations exhibited, including SIM, CMS, Interserve, Medair, AIM, Mercy Ships, All Nations Christian College and others.
Video about the course
Teaching is given in a Christian context but participants of other faiths and none are welcomed and have benefitted from the course in previous years.
Course Directors
Fi McLachlan - Course Organiser, Head of International Ministries, CMF
Dr Ian Spillman MRCP FRCPCH DA DTM&H DCH - Medical Director, Kisiizi Hospital, Uganda


Course Administrator
Dionysia Ayeni - CMF International Coordinator


Course Hosts
Ian and Hanna Spillman


Comments
The Developing Health Course has been running for over 50 years, equipping hundreds of doctors, nurses and allied health professionals for work in resource-poor settings. Previous participants have commented:
'This is by far the best course I have ever attended'
'We have really enjoyed every moment of very day on this course. We have found it challenging, inspiring, informative & applicable'
'All that I was hoping for and more'
'This course is excellent! It's good for the young ones who are planning to go, for the older ones who are in the thick of it and old people, like me, who are looking to see where God can use them in the last lap!'