England - Thames NW

- Beds and Herts
<< junior doctor contacts in your area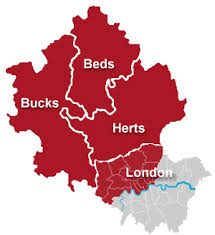 Thames North West (Beds and Herts) is a CMF region in South East England just North West of London. 119 CMF members are based here  - 89 in Herts and 30 in Beds including 95 doctors, 12 medical students, 4 nurses, 1 student nurse, 6 associates and one 1 associate student. Of the 95 doctors, 38 are GPs - 26 in Herts and 12 in Beds.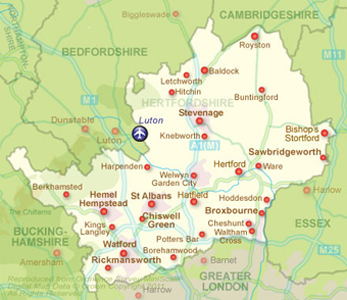 Hertfordshire has a population of 1,671,000 and four towns with between 50,000 and 100,000 residents: Hemel Hempstead, Stevenage, Watford and St Albans. It has four NHS Trusts and two CCGs as follows:
East and North Herts NHS Trust manages four hospitals: Hertford County (Hertford), the Lister (Stevenage), Mount Vernon Cancer Centre (Northwood) and the QEII (Welwyn Garden City).
West Herts Hospitals NHS Trust manages three hospitals: Watford, Hemel Hempstead and St Albans.
Herts Community NHS Trust delivers a wide range of community health services across Hertfordshire
Herts Partnership University NHS Foundation Trust provides mental health and social care services and specialist learning disabilities services.
NHS East and North Herts CCG
NHS Herts Valleys CCG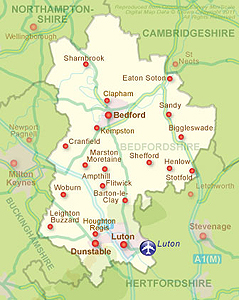 Bedfordshire has a population of 617,000 with over half the population of the county living in the two largest built-up areas: ;Luton (236,000) and the county town, Bedford (102,000). It has two NHS Trusts and two CCGs as follows:
Bedford Hospital NHS Trust
Luton and Dunstable University Hospital NHS Foundation Trust manages two hospitals: – Luton and Dunstable Hospital and Harpenden Memorial Hospital
NHS Bedfordshire CCG
NHS Luton CCG
The East of England Ambulance Service NHS Trust covers both Hertfordshire and Bedfordshire
Beds and Herts also includes 17 parliamentary constituencies – 11 in Herts and 6 in Beds. Of these 15 MPs are Conservative and two are Labour, those in North and South Luton.
Please note that the above links are not intended as a resource for personal healthcare advice or provision, or a medical opinion on any matter, but solely for use by doctors, nurses, midwives and nursing students on the business of CMF.
Catalyst Team Leader: leads the work of CMF in a region, this role replaces the Regional Team Leader role in regions with the new catalyst teams.
Regional Team Leader: overseeing point of contact for Links in the geographical region.
Local Link: a point of contact between the members living or working in a town, district or rural area.
Workplace Link: a point of contact between the members working in a hospital, surgery, health centre or other relevant place of work.
Church Link: a point of contact between the members in a local church fellowship, and liaison with the church leadership.
Local Meetings: meetings of members for fellowship including former 'graduate' and 'open house' meetings.
Student Link: a medical student who provides a link between the student group and national CMF and is actively involved in running the local group.