juniors - events
Junior Doctors' Conference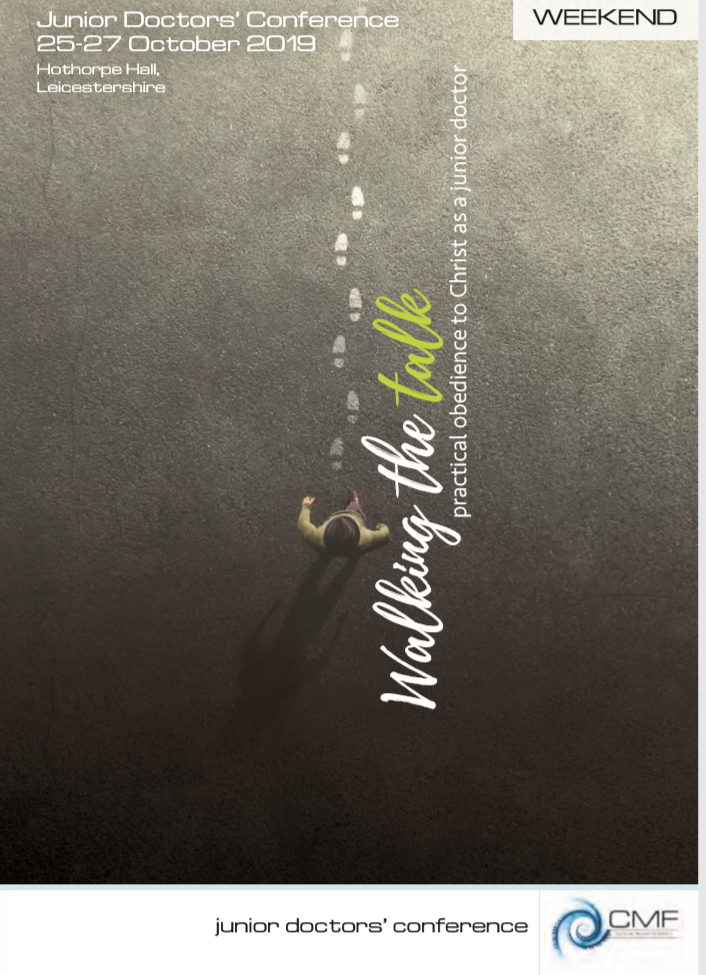 When: 25-27 October
Where: Hothorpe Hall
Time: Registration from 5:30 pm
Hosted by: CMF

Click here to book online.
Click here for full details and a postal booking form
To download the PDF, right click on the link above and select 'Save Target As...'
Walking the talk - practical obedience to Christ as a junior doctor
25-27 October 2019Hothorpe Hall, Leicestershire
What does it mean in practice to follow Christ amidst the stress, pressures, and opportunities of life and the emotional, moral and spiritual challenges of working in the NHS as a health professional? How can we develop daily practices, habits and disciplines which will support us in our working schedules? How can we build resilience and character which is rooted in the reality of a growing relationship with Christ and the support of our Christian brothers and sisters? How can we learn to overcome unhealthy perfectionist tendencies and strive for excellence and leadership with healthy acceptance of who we really are in Christ? How do we discover the joy of fulfilling the unique vocation that God has given us?
Join us at this weekend conference to explore practical answers to these questions together, and for fellowship, friendship, refreshment and restoration in the Lord.


SPEAKER
John Wyatt, CMF President and Emeritus Professor of Neonatology, University College London, spent over 30 years working as a paediatrician and at the cutting edge of neonatal research within the NHS. He is a senior researcher at the Faraday Institute for Science and Religion, as well as a sought-after speaker and writer on medical ethics and related topics. He has authored several books including Matters of Life and Death.


PROGRAMME
FRIDAY 25 OCTOBER
17:30 onwards Registration
19:00 onwards Dinner
20:30 Ambition: influence, leadership and the NHS - John Wyatt
SATURDAY 26 OCTOBER
07:45 onwards Breakfast
08:00 Prayer meeting
09:15 Seminar session 1
10:30 Coffee
11:00 Resilience: when the going gets tough - John Wyatt
12:30 Prayer and reflection
13:00 Lunch (followed by free time)
16:00 CMF Frontline
17:15 CMF Tasters
18:30 Dinner
19:45 Seminar session 2
21:00 Evening activities
SUNDAY 27 OCTOBER
07:45 onwards Breakfast
08:00 Prayer meeting
09:15 Presence: closeness to Christ, compassion to others (followed by communion) - John Wyatt
11:15 Coffee
11:45 Seminar session 3
13:00 Lunch
14:00 Depart


SEMINARS
1. Topical Ethics Challenges - what should I know? What can I do? - Mark Pickering
2. Stepping out in following Jesus - wherever he may lead - Fi McLachlan
3. 'Male and Female He created Them' - why? So what? - Grace & Joe Watson
4. Pornography - walking in true freedom - John Greenall
5. Singleness - Monica Hrabovsky
6. Being a Christian leader in medicine - James Tomlinson
7. 35,000 decisions a day and counting! - Noel & Laura Aruparayil
8. Godliness for ordinary Christians and why it is important - Steve Sturman
9. Biblical justice - Being doctors after God's own heart for the vulnerable - Felicia Wong
10. Work and witness - Alex Bunn
For full information on the programme and the seminars, please download the brochure using the link above.
Closing date for booking is Wednesday 9 October.