juniors - events
Saline Online Course - Ireland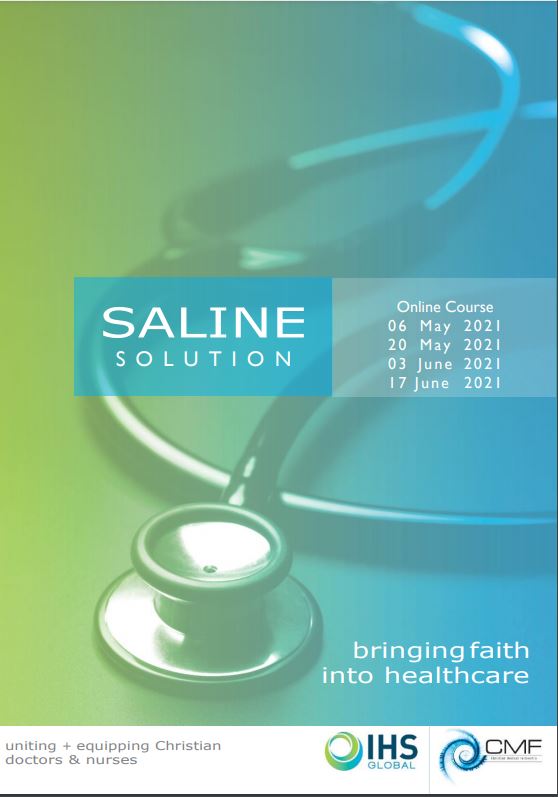 When: 20 May, 3 and 17 June, and 1 July
Where: Online
Time: 8 pm - 10 pm
Hosted by: CMF

To book online and for more detailed information, click here.
Zoom Saline, whole course in four sessions every fortnight, Thursdays 8 pm to 10 pm on 20 May, 3 and 17 June and 1 July
Participants: UK wide but with priority to HCPs working in Ireland North and South. Students are welcome including dental but with priority to South of Ireland, then North and then elsewhere. Participants can do one session SPOT if they miss a session. Those unable to be placed will be offered a place at the next UK online Saline course.
Prices
· Clinical student £5
· Nurse or other health professional £10
· Doctors and dentists £20
This would include the Saline workbook (digital), registration to the global Saline Online Community, certification and follow-up help and support if required. If a delegate has to miss a session, we have helpful ways of covering the material at another time in that week.
Trainers for Ireland Saline include:
D

r Andrew Cupples - GP working in Whitehead in County Antrim. He is married with five children and has an interest in diabetes, bioethics and medical technology

Dr Stephanie Moss - GP Birmingham

Dr Werner Mcllwaine - Retired physician and chair of NI committee of CMF

Dr Rob Jones - Previously worked as a middle-grade hospital doctor in Anaesthetics, Pain Management, and latterly, Palliative Medicine. Now enjoying retirement in South

Dr Jen Dunn - Orthopaedic trainee currently ST3 working in Dundee. She is married, and she has a 3-year-old and various pets. In her spare time, she is involved in medical student teaching, sits on the Royal College of Surgeons of Edinburgh trainee committee, writes, game and surf.