nurses - events
Psychiatry Day Conference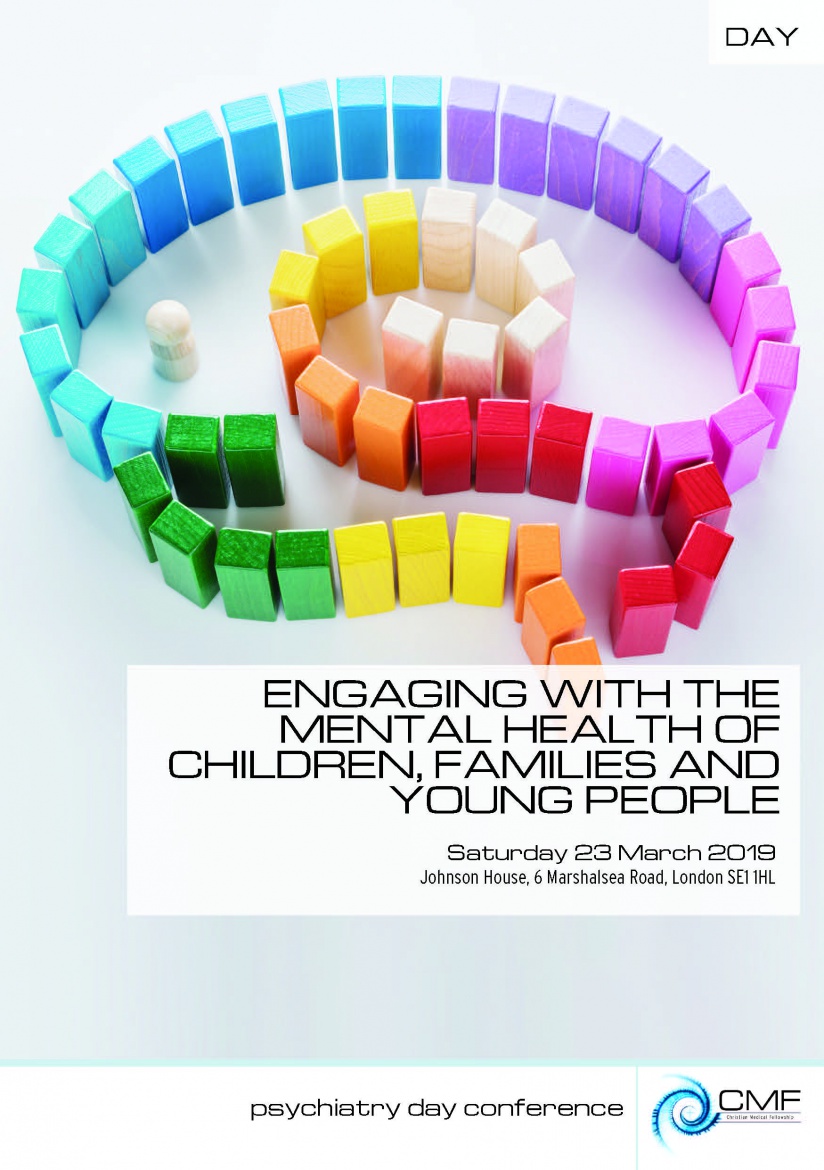 When: Saturday 23 March
Where: CMF - London
Time: 09:15-16:00
Hosted by: CMF - London

Click here to book online.
Click here to download a copy of the brochure and postal booking form
To download the PDF, right click on the link above and select 'Save Target As...'
Engaging with the mental health of children, families and young people
In our world today, we are seeing an increase in children and young people struggling with their mental health, presenting across different health settings, from A&E departments, paediatric wards, schools and CAMHS services. What should be our response as Christians working across these different settings? In this day conference we will explore some of the challenges to children and young people's mental health and how we can best support children, young people and their families.
Who is this conference for?
This event is aimed at psychiatrists at any stage. Other medics, healthcare professionals and medical students are also welcome. You don't need to be a member of CMF to attend.
Organising Committee
The conference is organised by psychiatry members of the Christian Medical Fellowship.
Programme
09.15 Arrival and registration
09.45 Welcome
Dr Claire Wilson, CMF Psychiatry Speciality Link
10.00 Bible Address
Rev Spencer Cunnah
10.30 CMF Update
Dr Felicia Wong (CMF Head of Graduate Ministries)
10.45 Break
11.15 CAMHS in Conversation: child psychiatrists discuss current challenges to the mental health and wellbeing of children, families and young people
Dr Richard Church, Dr Ashley Liew and Dr Rani Samuel
12.00 Prayer
12.15 Lunch
13.00 Experiencing an Eating Disorder: perspectives of a Christian medical student
Ms Libby Adderley, interviewed by Dr Joel Khor
13.30 Living Life to the Full for Young People: a CBT approach
Prof Chris Williams
14.30 Break
14.45 Panel discussion and prayer
16.00 Depart
Speakers
Libby Adderley - Libby is a final year medical student at the University of Manchester. She developed anorexia aged 15 and will discuss her experiences in light of her faith and chosen profession.
Richard Church - Richard is trained in both child and adolescent and forensic psychiatry in London and volunteered as a psychiatrist in a Christian mental health project.
Spencer Cunnah - Spencer is the minister of Kensit Evangelical Church, London. He has been involved in ministry among children for over forty years and currently partners with Pathway, speaking in assemblies to children in schools.
Ashley Liew - Ashley is a consultant paediatric neuropsychiatrist working across CAMHS Learning Disability and Paediatric Liaison Psychiatry services. He is also Clinical Lead for Research and Digital Technology for his mental health organisation.
Rani Samuel - Rani is a consultant child and adolescent psychiatrist. She leads mental health services for children who are adopted and in local authority care and an outpatient CAMHS service.
Chris Williams - Chris is Emeritus Professor of Psychosocial Psychiatry at the University of Glasgow and author of Living Life to the Full (www.llttf.com). His young people programmes provide life skills training and resources for teachers and others.