nurses - events
Seniors' Conference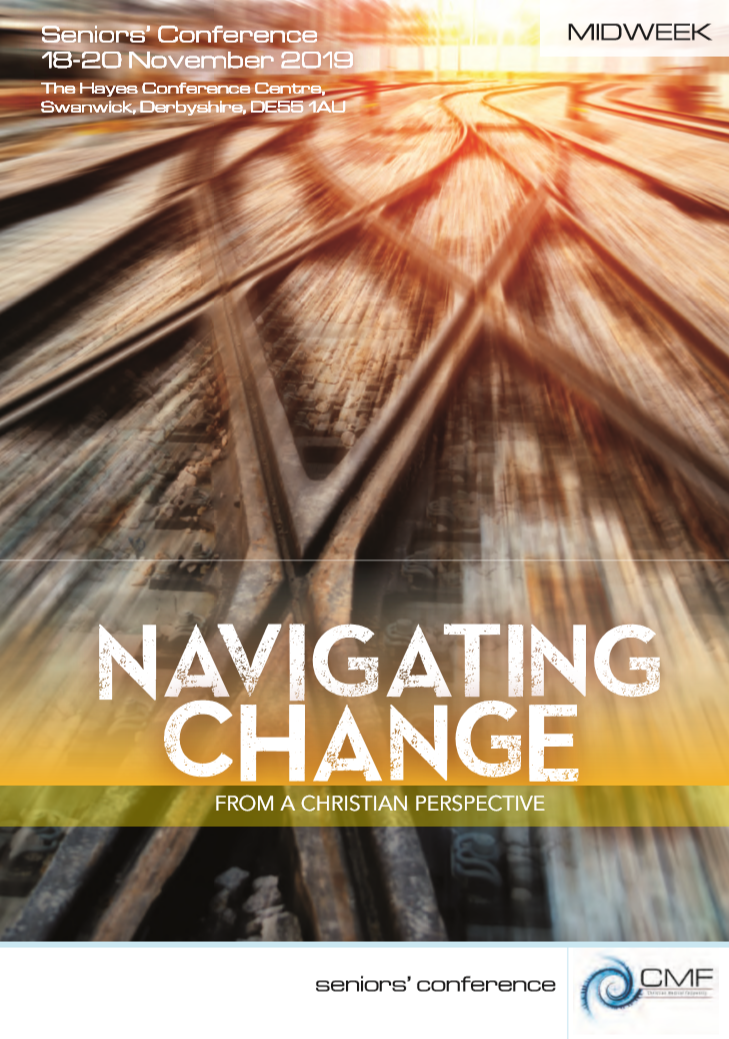 When: 18-20 November 2019
Where: The Hayes, Swanwick, Derbyshire
Time: Registration from 4 pm
Hosted by: CMF

Click here to book online.
Click here for full details and a postal booking form
To download the PDF, right click on the link above and select 'Save Target As...'
Changing gears in a changing world? Navigating change from a Christian perspective
18-20 November 2019
The Hayes Conference Centre, Swanwick, Derbyshire, DE55 1AU
We all face many changes throughout our lives. We change; our environment changes; new challenges appear and old values are challenged. The first letter of Peter teaches some important principles about how to navigate change Christianly - where we need flexibility and where we must stand firm. As we examine its teaching we shall find ourselves strengthened and stimulated by its radically different perspective.
Wednesday morning will feature 'Praxis' Workshops - practical 'how to' sessions covering issues in this season of life including: changing family dynamics, biblical advocacy, financial planning and stewardship, later life theological training and social media for ministry.
This conference is for senior clinicians who are retired or approaching retirement in the next 5 years, as well as senior clinicians thinking of stepping down in some way in their current roles.
SPEAKER
David Jackman has been married to Heather for 49 years and they have two married children and four grandchildren. After graduating from Cambridge, David served for six years as universities secretary for the UCCF (then IVF). Theological studies at Trinity College, Bristol, preceded his appointment to Above Bar Church, Southampton, where he ministered for 15 years. In 1991, he became the founder director of the Cornhill Training Course, a ministry of the Proclamation Trust, of which he was later president. In retirement, he continues to preach, produce training materials, write books and conduct preaching workshops in the U.K. and overseas.
PROGRAMME
MONDAY 18 NOVEMBER
16:00 onwards Registration and coffee
18:30 Dinner
20:00 WELCOME & BIBLE READING 1 - David Jackman
TUESDAY 19 NOVEMBER
07:45 onwards Breakfast
08:00 Prayer meeting
09:30 BIBLE READING 2 - David Jackman
10:45 Coffee
11:30 SEMINAR SESSION 1
13:00 Lunch (followed by free time)
15:30 Afternoon tea
16:30 SEMINAR SESSION 2
18:30 Dinner20:00 CMF session - Mark Pickering & John Greenall
WEDNESDAY 20 NOVEMBER
07:45 onwards Breakfast
08:00 Prayer meeting
09:15 'Praxis' Workshops
10:45 Coffee
11:30 BIBLE READING 3 & COMMUNION - David Jackman
13:00 Lunch
14:00 Depart
SEMINARS
1. Burning brightly or flickering out - Stephanie Moss
2. The most productive decade of your life? - John Greenall
3. Doing what only you can do - Fi McLachlan
4. Being salt and light in the public square - Mark Pickering
5. The past is the gateway to the future, not the obstacle - Brian Hopkins
6. Receiving and giving good pastoral care - Steve Sturman
For full details on the programme and seminars, please download an electronic brochure using the link at the top of the page.
Booking closes on 1 November.