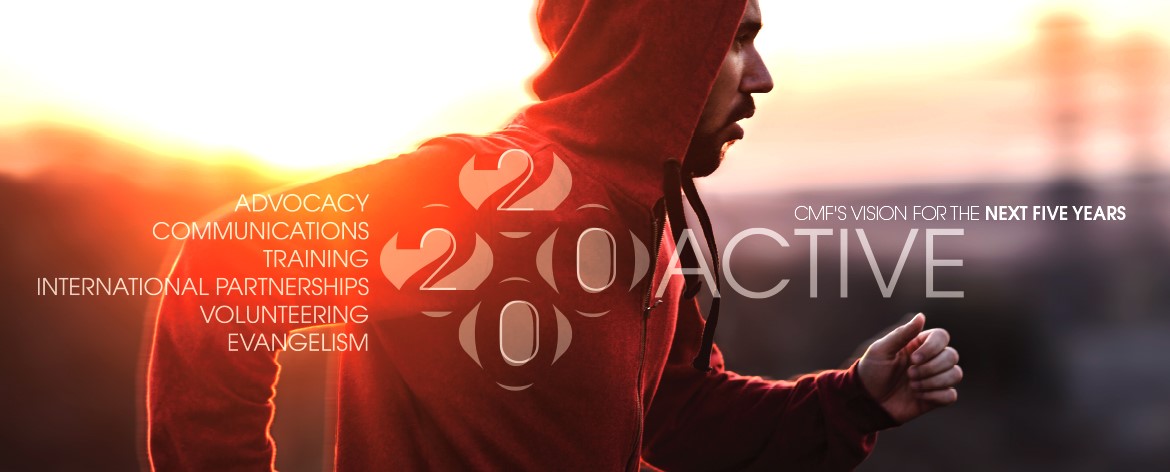 Six Strategic ACTIVE Priorities
Over the next five years CMF will focus on six key strategic priorities, under the theme 2020 ACTIVE Advocacy, Communications, Training, International Partnerships, Volunteering and Evangelism.
1. Advocacy
The challenge: Christian doctors, nurses and midwives share a Christian calling to be prophetic people who 'hate evil, love God and establish justice' (Amos 5:7-15). They have unique opportunities to 'speak out for those who have no voice' (Proverbs 31:8, 9) and through the fourth CMF aim we serve as a collective voice 'to promote Christian values in society, especially, but not limited to, the areas of bioethics and healthcare'.
2. Communications
The challenge: God's life-giving words are 'profitable for teaching, rebuking, correcting and training in righteousness' (2 Timothy 3:16-17). In our instantly communicating and technology-driven world CMF seeks to be using all means of communication to deliver our messages in a relevant, accessible and engaging ways. Good communication enables building community and support networks among CMF members and enables the voices of CMF to be heard in the public square.
3. Training
The challenge: The first CMF aim is 'to unite Christian doctors, nurses, midwives and students in Christ and encourage them to deepen their faith, live like Christ and serve him obediently, particularly through acting competently and with compassion in their medical practice'. CMF already has a number of excellent courses. Our main challenges are a lack of trained and accredited trainers who can run these courses and making them available on line. With the ICMDA just launching a major training project, we expect that several of our resources will be able to play a major role in helping over 80 national sister organisations to develop training systems of their own.
4. International Partnerships
The challenge: While we continue to support many members serving short term or long term aboard in resource poor settings the world, God's mission is no longer based on a colonial template but mobilises from everywhere to everywhere. The International Christian Medical and Dental Association (ICMDA) has grown from about 25 member bodies in 1990 to over 80 today. More national groups are being added all the time. They need literature, training and support from organisations like CMF UK which are well-resourced and long-established. CMF has important working partnerships with NCFI[1], IHS Global[2], HCFI[3], EPCE[4], ELF[5] and PRIME. We want to see more and more members be involved in these global partnerships.
5. Volunteering
The challenge: God's church is intended to function as a body with each part doing its work to build others up for acts of service. Hundreds of CMF members already serve on committees, as link people, through speaking at our events or writing for our publications. We want to become even more effective in volunteer recruitment, selection, training and management. The potential is huge and we want to see more and more CMF members becoming effective evangelists, writers, media spokespeople, mentors, committee members, trainers, pray-ers. CMF is committed to enriching voluntary engagement in association with Newell High Impact Volunteer Ministry training, a world-recognised best practice model. CMF plans to appoint a full time volunteer ministry director in 2016 to act as Consultant, Champion, Catalyst and Controller of the whole volunteer process.
6. Evangelism
The challenge: The Gospel is God's power for salvation (Romans 1:16) and CMF members, like every member of God's church, are called to be witnesses to Jesus Christ as Lord. Our second aim is 'to encourage Christian doctors and medical students to be witnesses for Christ amongst all those they meet'. CMF seeks to put the Gospel first, equipping our members both to share their faith and to defend it against its critics. We already have many excellent resources on evangelism and apologetics (Cure for Life, Greatest Person, Physician's Story, Confident Christianity, Saline Solution, Answering other Faiths, Seven deadly questions). We want to increase training and resources in evangelism and apologetics. We want to see more evangelistic events and initiatives in medical schools, hospitals, colleges, churches and communities.
[1] Nurses Christian fellowship International
[2] International Health Services - runs Saline Solution training
[3] Healthcare Christian Fellowship International
[4] Euthanasia Prevention Coalition of Europe
[5] European Leadership Forum