Complementary & Alternative Medicine
<< back to bookstore frontpage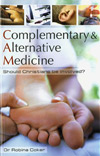 Order Ref: Com0801
Published by: CMF (2008)
Author: Dr Robina Coker
ISBN: 978-0906747384
Price: £5.00(RSP: £8.00, save £3.00)
What are we to make of treatments like:
Acupuncture
Bach flower remedies
Craniosacial therapy
Homeopathy
Reflexology
Reiki
Yoga?
Building on 1995's Alternative Medicine - Helpful or Harmful? consultant physician Robina Coker takes a completely fresh look at the phenomenon of complementary and alternative medicine.
While the popularity of CAM therapies challenges the excesses and omissions of orthodox medicine, we need to take a balanced view. From a Christian perspective this thought-provoking book explores the background to CAM, explains evaluation, examines the evidence, and so provides a framework from which to make healthy choices in healthcare.
All orders are subject to availability