Christians in the firing line
<< back to bookstore frontpage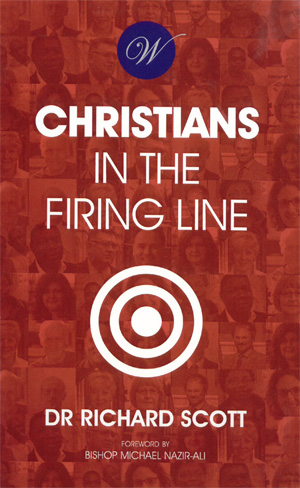 Order Ref: Chri1309
Published by: Wilberforce Publications (2013)
Author: Dr Richard Scott
ISBN: 9780957572515
Price: £7.00(RSP: £7.99, save £0.99)
What do a doctor, and electrician, a beautician, a magistrate, a nurse and a counsellor have in common?
These are amongst many professional people who have encountered serious problems at work because of their Christian faith. Some have lost their jobs and others have faced censure.
Marginalisation of Christians in Euroope, and particularly in the UK, is becoming more common. Members of Parliament and even bishops may debate the subject, often concluding that there is no problem, but the issue is no longer academic if it is your job under threat, your livelihood and beliefs that are at stake.
This book examines the cases of thirteen people who have been warned, blacklisted, suspended or dismissed for refusing to compromise their biblical principles in the face of an officialdom seemingly hell-bent on bowing down to the 'god' of political correctness and secularism. Some of the cases considered (a street preacher and a city councillor) are about public witness beyond the workplace.
Those who are under attack have found in their struggles that they need not stand alone. There are Christian lawyers who have joined together with the organisation called Christian Concern to seek to protect the rights of those who imply wish to stand up for what they believe to be true and good.
All orders are subject to availability