Who made God?
<< back to bookstore frontpage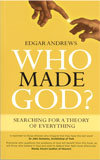 Order Ref: Whom1209
Published by: EP Books (2012)
Author: Edgar Andrews
ISBN: 9780852347638
Price: £3.00(RSP: £9.00, save £6.00)
Dr John Sentamu, Archbishop of York, says Who made God? is 'written in a very lively style and conveys complex subjects in a palatable form.' Novelist Fay Weldon calls it 'thoughtful, readable, witty, wise'. The Principal of London Theological Seminary declares: 'Richard Dawkins has more than met his match.'
A book by a distinguished scientist about the existence of God, with chapter headings like 'Steam engine to the stars' and 'The tidy pachyderm' has to be different. It is. Addressing profound questions of science, philosophy and faith with an amazing lightness of touch, Edgar Andrews exposes the pretensions of the 'new atheism', blending incisive arguments with gentle humour. However, his aim is not simply to rebut the aggressive atheism of our age but to provide a logically consistent and altogether more satisfying alternative. His fellow physicists dream of discovering a 'theory of everything' embracing every physical phenomenon in the cosmos. But can there be a theory of everything that also includes the realms of the heart, mind, conscience and spirit? Yes, indeed, as this book shows. It is the 'hypothesis of God', a concept that towers above the barren landscape of atheism and despair.
Please note that this is the 2012 edition and not the 2015 one.
All orders are subject to availability