An Elective in Rural Medicine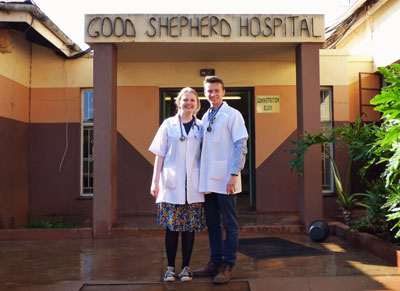 We undertook our medical elective at Good Shepherd Hospital in Siteki, Swaziland in Spring 2016. We decided to visit Swaziland to extend our clinical experience beyond the UK; we were able to see presentations of disease which we have never seen before as well as understand more about the healthcare systems in developing countries. Being Christians, our faith has always been an integral part of our medical careers, and so the opportunity to work in a mission hospital was very exciting! This experience gave us the opportunity to outwardly be Christian doctors as well as equipping us for potential future pursuits as medical missionaries.
Swaziland is the smallest country in Southern Africa and is bordered by South Africa and Mozambique on its Eastern border. Good Shepherd hospital is located in Siteki which is one of the poorest rural centres in Swaziland. Despite its small size, it is responsible for roughly 250,000 people predominantly from rural communities.
Medicine in Swaziland
One of the over-riding themes from this elective was seeing the advanced stage of disease at presentation to a doctor. Cases we saw included first presentations of diabetes with diabetic retinopathy causing rubeosis and glaucoma; lung cancer causing SVC obstruction and palpable bone metastasis and TB with pericardial effusion. The reason for these common late presentations was multifactorial. Causes included lack of awareness, a poor reputation of the hospital and its services, lack of money for hospital fees or travel to the hospital and long distances between homesteads and health clinics/hospital.
We were also able to learn more about conditions such as HIV and TB which are infrequently seen in the UK. We saw many complications of HIV such as HIV encephalopathy, cryptococcal meningitis, inflammatory arthritis, squamous cell carcinoma of the conjunctiva, kaposi sarcoma and many other pre-malignant and malignant manifestations. We also saw some of the complications of treatment using retro viral therapy. The most memorable case was a severe case of Stevens-Johnson syndrome caused by taking the prophylactic antibacterial co-trimoxazole.
Elective structure
During our time at Good Shepherd hospital, we spent time in several of the departments at Good Shepherd. These included general medicine and surgery, paediatrics, ophthalmology and also the rural health clinics. We also worked alongside a project called 'Home Based Care' which is a programme set up by a truly inspirational semi-retired American couple to care for the poorest patients who are unable to get to the hospital to receive treatment. Our role as medical students was extremely varied and involved helping on ward rounds, taking histories and examining patients and deciding on their immediate management. We were most clinically useful as students in the rural clinics where we could often be the most qualified person there. It was rewarding to be able to use our medical knowledge to really help the patients.
During our time in Swaziland, we also spent some time doing some research in the ophthalmology department. Good Shepherd Eye clinic was set up in 1998 by Dr Jonathan Pons, a South African trained ophthalmologist with funding from the Christian Blind Mission. The eye clinic has completely transformed healthcare in Siteki with sight being restored to the blind everyday! It was humbling and exciting to observe and to be a small part of this mission. We were asked to find out the reasons why certain patients were not attending for their scheduled operation at the eye theatre. It was good to do this project whilst in Swaziland to develop skills in public health, research and to integrate this into a completely new setting. There are lots of opportunities to research and audit aspects of care at Good Shepherd to try and improve the future.
Experiences from our elective
We gave a small amount to Swaziland in comparison to what Swaziland has given to us! Many of the experiences from the elective will stay in our hearts for many years to come and influence both our personal, professional and spiritual lives.
It was definitely an eye opener to see patients living in the rural homesteads. Several were simply mud-huts with a corrugated iron roof. Some patients didn't have a mattress to sleep on and some, no sustainable source of food. Often patients were extremely unwell and it was extremely challenging to treat such advanced and complicated disease with such simple medical supplies that we carried with us. It was also difficult knowing that only so much could be done as patients have to fund their travel to hospital and their hospital bills. Small things which are routine in the UK make such a difference and it is shocking to see the consequences when these are lacking. It definitely made us realise how privileged we are in the UK to have the National Health Service which provides fantastic care to everyone.
Before we came to Swaziland, we relied heavily on test results and investigations which we deemed to be necessary to make the diagnosis, when sometimes they would not alter the management. However, after spending time at Good Shepherd Hospital we have realised it is often necessary to rely on the stethoscope and the clinical picture and think creatively about what can be done to truly help a patient, taking into account their background and their financial situation. We hope to bring some of these values to our medical careers as we begin as junior doctors in the UK.
Being a Christian medical student or doctor in a very secular UK health infrastructure can sometimes be a very difficult balance to strike. It was refreshing to practice medicine in a mission hospital whereby patients could accept prayer for their health condition if they wished and where doctors outwardly cared for more than just the physical health of the patient. We had some great discussions about what it means to be a doctor and a Christian and how these two roles can be intrinsically connected. It has definitely prepared us for starting work as Christian doctors.
Non-academic activities
We made the most of our weekends and spare time by exploring what Swaziland had to offer. We were staying at Mabuda farm which was a five minute drive from the hospital. There is a backpackers lodge available for slightly bigger groups as well as smaller chalets, both very reasonably priced and overlooking the beautiful farm and Lubombo mountains. We also visited some of the local national parks, H'Lane, Malalotja and Matenga nature reserves, as well as going further afield to Kruger National park in South Africa. We also visited the tourism central, Ezulwini Valley, and experienced our first Swazi music festival 'Bushfire' which is an internationally acclaimed modern music and arts festival held each year at House on Fire.
Although there was plenty to do and visit in Swaziland, the thing which really made this elective special was the community we found at Mabuda and the friends we made despite it being such a short trip of 6 weeks. As Christians it was amazing to live amongst people who were really living out the gospel and truly being God's hands and feet in such a deprived community whether they were health workers, charity workers or missionaries. It gave our faith a new perspective to spend time in this community and build fellowship with some truly inspirational Christians.
Caroline & Alex Norris