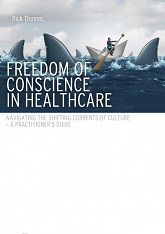 Living by our most deeply held values and principles is something we all instinctively understand. But what happens when we find ourselves asked to participate in treatments and procedures we strongly believe to be wrong as Christian health professionals?
In this new CMF booklet, Freedom of Conscience in Healthcare, Rick Thomas explores the legal, professional, ethical, and above all, scriptural bases for conscientious objection and at how we constructively manage this with our superiors, colleagues, and patients.
Available to pre-order now from the CMF Bookstore.