CMF news: winter 2002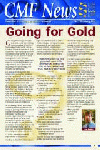 PDF version
(right-click and choose 'save as...' to download)
Going for Gold
'From everyone who has been given much, much will be demanded; and from the one who has been entrusted with much, much more will be asked. ' Luke 12:48 Giving thanks is good for the soul, and a great way of lifting our spirits when we feel life's burdens...
Plans for 2003
£10 per member per month A subscription of £10 per member per month for full members from January 2003 is £120 per annum and will allow us to raise the extra £110,000 we need to do everything on these two pages in 2003. £120 is not much if you put it...
Staff News
Morwen Dyer left CMF for greener pastures in December after three years as administrative assistant. Many of you will have appreciated Morwen's dulcet Scottish tones on the CMF Office phone, and we will miss her cheery presence and smiling face in the office and all her hard work on publications...
Members' News
Congratulations On their postgraduate qualifications Claire Wickens MRCPCH On their awards and appointments If you have recently received an award, a new appointment or postgraduate qualification please let us know for the next edition of CMF News. Movements Outgoing Martin Allaby (Oxford) to Nepal Jes Bates (Bristol) to Malawi John Chaplin (Guy's)...
Conference Reports
CMF Autumn Conferences The autumn conference season has now finished but over 500 members attended regional, weekend or day conferences in Northern Ireland, Scarborough, Oxford, Cardiff, Sheffield, Birmingham and Eastbourne. Saline Solution Over 20 people attended this weekend event in October to road-test the very popular Saline Solutiontraining programme...
Upcoming Conferences
CMF National Conference - 25-27 April 2003 The brochure for the CMF National Conference at Swanwick is included with this mailing. Please put the date aside in your diary and book soon. Other Conferences Individual booking forms will be mailed regionally: January 25: Confident Christianity, Glasgow January 25: Confident...
Ethics
CMF Ethics Submissions CMF's submission to the consultation set up in the wake of Alder Hey on Human Bodies, Human Choices is now available on the website, along with past submissions, at www.cmf.org.uk/ethics/subs/subs.htm. We are currently drafting a submission on sex selection for the HFEA. New Master's Course in...
Publications
Books to Nigeria Over 2,000 Christian medical students attended the NCMDS national students' conference in Jos in December. CMF sent a gift of 400 copies of the CMF CD and 100 copies of each of Matters of Life and Death and Cure for Life. We hope to make further...
General Practice
Freedom to employ Christians A number of CMF members in Christian practices have expressed concern that preferentially employing Christian staff m ay put them at risk of litigation. Our understanding of the current situation is as follows: There are UK laws preventing sex and race discrimination in the employment...
Students
Turning Points Bookings are pouring in for the CMF National Students' Conference to be held at the Hayes Conference Centre, Swanwick, Derbyshire on the weekend of 7-9 February 2003 and all students should receive a further booking form with this mailing. Don Carson and John Patrick are the main...
Junior Doctors
New Juniors' Committee New members of the junior doctors committee include Verona Beckles, Ranti Atijosan, Sophie Cricthley, Malcolm Savage and Richard Collins. Sarah Germain stays on as chair. Conferences for 2003 Please put the dates of four conferences directly relevant to juniors in your diary now: Ethics day (Birmingham,...
Mission Matters
You would think that as medics we would get used to interruptions. Day and night, they are a regular part of every doctor's life (which is also true of most people). However, if you are 'work orientated' like me they can be quite irritating, even frustrating at times when you...
ICMDA
The International Christian Medical and Dental Association have completed moving the head office from Cambridge, UK, to Edmonton, Canada. There is much involved in re-establishing the running of this office from one jurisdiction to another, as well as acquainting new workers to the organization. ICMDA is thankful for your thoughtful...