nucleus: autumn 2004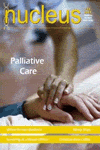 Editorial
I recently finished my psychiatry placement and I strongly suspect that it isn't the specialty for me! At the time, it seemed that the only good thing about the firm was a working day that started at 10:00 and was usually finished by 15:00. However, as I reflect back on...
Special Study Modules in Christian Medical Ethics
A special study module (SSM) is designed to provide medical students with an extended opportunity to work independently on a topic that interests them. They achieve this by exploring and critically evaluating the literature on the subject, producing a written report and presenting a seminar. Although the focus is on...
News Review
Controversy over 14 year old's abortion Baby born using 21 year old sperm Legal status of the fetus altered in the US Surrogate mother jailed for internet fraud Chlamydia threatens male fertility Another loophole in the HFE Act? New donor gamete register Mice produced by 'virgin birth' HFEA considers first...
Being a Christian in Palliative Care
Christians in every generation have been inspired to work with the destitute and dying. Dame Cicely Saunders is widely regarded as the founder of the modern hospice movement, with the establishment of St Christopher's Hospice in London in 1967. Both she and many of those who pioneered the subsequent expansion...
Whole Person Medicine
When I began my medical training, just over 40 years ago, we spent two and a half years learning the basic medical sciences - anatomy, physiology and biochemistry. Our teachers informed us that all medicine depended on these basic laboratory sciences. Later, clinical sciences such as pathology, immunology, medical imaging...
Survivng as a House Officer
The World Health Organization defines health as 'a state of complete physical, mental and social well-being'.[1] Often in medicine we consider physical well-being, but neglect the mental and social aspects of health. We can think of house jobs in the same way and fail to consider the emotional, social and...
Mercy Ships
When I was nine, I wanted to be an ice cream seller when I grew up. At about the age of ten God changed all that and told me in a number of ways, over a period of time, that he wanted me to become a doctor instead. In particular...
Ethical Enigma 8
Take a good history; be sure she is not pregnant. Take her through the contraceptive options including mechanisms of action for the combined oral contraceptive pill, progestogen-only pill (POP), male and female condoms, Depo-Provera injection, Implanon and the new patch system. Only prescribe what your conscience allows you to. For...
Out of the Saltshaker and into the World (Book Review)
Evangelism is a word that stirs up mixed feelings in most Christians. Depending on who you are, it could either bring guilt and condemnation, or compassion and excitement. Out of the Saltshaker draws on Jesus' exhortation for us to be 'salt' in the world (Matthew 13:16) and explores why we...
The Topical Memory System (Book Review)
Many Christians have found Scripture memory helpful, including Brother Yun, author of The Heavenly Man, and Frances Ridley Havergal (1836–1879) who wrote the hymn 'Take my life and let it be'. Given that the average person spends seven years just waiting about, for example on the tube train, this provides...
Letters
Editor, Lee Collier expresses some pertinent points in his letter to Nucleus (April 2004). He contrasts the attitude of church members to a man in a premarital heterosexual relationship who finds faith, with a man in a homosexual relationship who finds faith. A third scenario appears in churches and goes like...