nucleus: summer 2005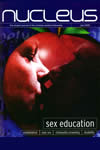 Editorial
Are you thinking what we're thinking? Brand new logo, new design, new fonts, yet more fresh, new articles and a themed edition to boot. Even so, I hope you will forgive me for providing a couple of caveats before you read on through the journal this quarter: First, this is by...
Chlamydia screening - Britain forward not back?
Sexually transmitted infections (STIs) have always been a blight on society through the years. In this decade, chlamydia is a serious problem affecting both men and women; it is now the most common STI. Although it can be asymptomatic in up to 70% of cases in women, 10-30% develop pelvic...
Living with disability
This article is an account of some of my reflections following a road traffic accident in 2002 after my second year at University College London, which left my right arm paralysed. The accident damaged my brachial plexus and following this I was in hospital for about three months. As you...
News Review
RCGP get off the fence on euthanasia The Royal College of General Practitioners (RCGP) Council met on 18 June and firmly rejected the College's previous neutral position on euthanasia. The College upset many of its members by sitting on the fence over euthanasia during the debate of Lord Joffe's Assisted Dying for...
Lovewise - Sex education in schools
A paediatric colleague and I have become increasingly aware in our Newcastle clinics and schools of how much our young people are suffering from the consequences of sex outside marriage and the disintegration of home life. As you will read below, we believe that safe(r) sex teaching has contributed to...
Cohabitation
On 5 February 2005, cohabitation hit the British headlines with an article on the front page of the Times. 'Unmarried families are more likely to fall apart', it proclaimed, before analysing the recent trends in cohabitation, marriage and childbearing. Research from the Office for National Statistics shows that at least...
Solo sex
Solo sex is a good definition of masturbation. It cuts to the chase. When I write or give lectures on the subject (yes, I can think of easier ways to earn a living too!) I will use formal definitions of masturbation, such as: The act of exciting one's own sexual organs...
Ethical Enigma 12
There are two important keys to handling this situation. First, you must think carefully about how to respond – what angle is this doctor coming from? Second, you are working for him so this could be an ongoing discussion that does not require you to demolish all his arguments in...
How blind is the watchmaker? (Book Review)
This is a satisfying read, though not a light one, as Neil Broom carefully picks through the issues surrounding neo-Darwinian theory and evolution. He is careful to define and differentiate between evolution as a purely descriptive term referring to 'the gradual unfolding over time of biological forms' and neo-Darwinism, an ideology...
What the Bible says about going out, sex and marriage (Book Review)
This small book provides excellent practical advice for Christian young people on how to view and express their sexuality. In a culture where sex is often portrayed as all-important and without much moral framework other than self-fulfilment, it can be very hard for young Christian singles to work out how they...
Letters
Editor, Thank you for another great edition of Nucleus. It was interesting to read about Burrswood -a Christian hospital. My interest was sparked by Michael Harper's comment that Burrswood has significant expertise in chronic fatigue syndrome (CFS) and similar conditions, particularly because I have known three people with the condition,...