nucleus: spring 2008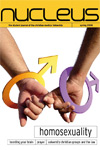 Editorial
A major component of my intercalated BSc degree last year was the group project. In the final weeks, we pulled out all the stops to complete it as best we could. My stamina was tested to the limit as we worked late each night. I wonder how I would have...
Personal beliefs in medical practice
Christians strive to live out their convictions about Jesus Christ, under the authority of the Bible. This extends to every part of our lives, including medicine. Due to be published this year, the GMC (General Medical Council) guidance on Personal Beliefs and Medical Practice should be of particular relevance. ...
Boosting your brain
Most medical students are pretty good at passing exams, but who wouldn't want to be better? Advances in pharmacology have led to the creation of a generation of drugs that claim to enhance cognition. Now you can stay up all night, keep on task, and maybe even boost your IQ....
News Review
stem cell developments Embryonic stem cells (ESCs) remain controversial due to the resultant destruction of human embryos. However, recent developments have shifted the debate considerably. Human skin cells have been reprogrammed to become cells similar to ESCs (induced pluripotent stem cells), which were then used to form brain and...
Homosexuality: a Christian response
As founder and director of True freedom Trust, I have been involved in the Christian debate on homosexuality for over 30 years. I have been shocked by the way that some Christians with same-sex attractions (SSA) and their relatives have been treated by their churches - others have been wonderfully...
The science behind same-sex attraction
Over the last century and a half, stigmatising labels of pathology and 'disorder' have played a key role in the exclusion and sometimes inhumane treatment of people with same-sex attraction (SSA). As we saw in Martin Hallett's article in this issue of Nucleus (pp14-20), Christians have much more to do...
Prayer
Most often, it's only when we fail an exam that we are honest with ourselves about just how little work we've been doing. No matter how much steam we vent over the stupid exam style and difficult MCQs – we know deep down that it was because we didn't stick...
University Christian groups and the law
The academic world is a microcosm of society outside, seemingly without the same restrictions. It allows students to thrive on debate and formulate new ideas. But Christians of all academic disciplines are facing an increasingly belligerent culture of relativism. Absolute truth has been dismissed, almost absolutely. As such, students, professing...
Fearfully and wonderfully made: diversity
The scientist sits in his laboratory, peering down his microscope at the myriad samples of cells. Still and lifeless, they nonetheless demonstrate the magnificent array of tissue types that form the human body. From the humble erythrocyte to the astonishing nerve cell. Each part is individually powerless and yet collectively...
How to read the Bible for all its worth: the Prophets
This series is summarised from Fee G, Stuart D. How to Read the Bible for all its Worth (3rd ed). Grand Rapids: Zondervan, 2003. Who are these strange men and women? What on earth are they talking about? And why are they relevant today? Nowhere in the Bible do we...
Making Sense of Medical Ethics (Book Review)
'A 55-year old woman has come to hospital for investigations for anaemia and shortness of breath. She says she will kill herself if she is found to have cancer. The results confirm a malignant tumour. Do you risk her life by telling her she has cancer?' This case, an illustration...