nucleus: summer 2008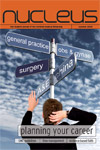 Editorial
Time management is crucial to surviving medical school. How do we allocate our time between studying, friends, family, church, and relaxation? I often wish that I had a formula for achieving the balance. Indeed, only one person in history used his time perfectly. Peter Saunders considers Jesus' flawless example of...
To the Ends of the Earth – Conference Report
Almost 400 medical students and doctors from the UK and abroad attended this year's CMF National Students' Conference in Derbyshire, UK from 8–10 February. The Friday evening started with praise and worship, and the usual noisy welcome to each of the medical schools. Power to be witnesses CMF General...
News Review
HFE Bill update As Nucleus went to press the Human Fertilisation and Embryology (HFE) Bill was going through its crucial final parliamentary stages, and the outcomes should be known by the time you read this, or soon after. The bill's main worrying aspects are: allowing animal-human hybrid...
Evidence Based Faith
The title of this article is a contradiction in terms for Richard Dawkins. 'Faith', he tells us, 'requires no justification and brooks no argument.'[1] Its adherents are no more than 'dyed-in-the-wool faith-heads'[2] who have no evidence base to support their beliefs and ignore all evidence against them. Dawkins' view of...
Personal Beliefs – GMC Guidelines
In March this year, the General Medical Council (GMC) published guidelines on Personal Beliefs and Medical Practice (PBMP). These aim to qualify and refine existing guidance set out in Good Medical Practice (GMP), published in 2006. The new guidelines touch on several issues that are important for Christian doctors, such as...
Time management – Jesus style
A famous CMF one-liner that I often quote is this: 'As medical students you have more time now than at any time in your life.' But in fact, it's not true; everyone has 168 hours in each week and 52 weeks in each year. You may have more discretionary time...
Planning your Career
My original intention in studying medicine was to become a missionary doctor because I had an implicit belief, shared by many people, that 'full-time Christian work' was somehow more spiritual than working as a Christian in a secular job. This, I have since realised, is an idea that has no...
How to Read the Bible for All its Worth
The Old Testament narratives are stories and they make up about 30% of the Bible. Yet this precious portion can become a complicated burden for Christians. Many people read them carelessly and miss the intended message. But it is worth understanding how narrative 'works' to gain a greater appreciation for...
Fearfully and Wonderfully Made: Worth
The sinister effects of disease can often be traced back to the malfunctioning of one type of cell, be it leprosy, sickle cell anaemia or leukaemia. Cells in the body may be numerous and diverse, but they are not expendable; each has its own function that is necessary to allow...
Why Does God Allow Suffering? (Book Review)
Why does God allow suffering? It is a theme that we encounter daily in healthcare and one of the hardest questions we face when sharing our faith. This book is part of a series by an American physician, exploring some key attributes of God. Starting with the basics, we are reminded...
Is God Obsolete? (Book Review)
The aim of Is God Obsolete? is to encourage Christians and non-Christians to think about their lives, and the extent to which God is a part of it. Dr Burke sets out this intention clearly from the start by quoting Thomas à Kempis, 'For a small reward a man will...
Letters
Editor, Rob Waller's article on 'Boosting your Brain' was very relevant. I am constantly faced with the challenge of where to draw the line in my academic work; I feel a duty to maximise the academic potential that God has given me, as a more knowledgeable doctor can better help...
The China miracle
China is hitting the headlines as it flexes its economic and political muscles to become a super power. This year the tragic earthquake in Sichuan that has claimed over 60,000 lives galvanised the Chinese government and many local and foreign non-governmental organisations into immediate and effective action to relieve the...