CMF news: summer 2008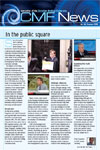 PDF version
(right-click and choose 'save as...' to download)
In the public square
Since November 2007 CMF has issued just two press releases. One decried the 'stealth liberalisation' of abortion policy implicit in the early trial of medical abortion in 'non-traditional' settings. The other called on the government to invest more actively in developing the NHS umbilical cord stem cell bank. Yet despite...
Fellowship News
Goodbye to Charles Charles Otim has been the accountant at CMF for four years, but with his home and family in Liverpool and a weekly commute, he left CMF at the end of March to set up his own accountancy business in Liverpool. Charles hails originally from Uganda, and we have...
Regrouping for Autumn
The summer is a quieter period for the department as many students are taken up with exams or away on holiday. It gives us some time to regroup and prepare for the autumn term. Student Leaders' Conference On 4-6 April we had the annual student leaders' conference near Telford, commandeering...
Lively + Vibrant + Relevant
'Great Expectations' fulfilled at National Conference! Approaching 250 of us gathered at Swanwick from 25–27 April for the annual national conference. It was a great time for all ages and stages, and many expressed appreciation of the varied programme and the less rushed timetable. One long term member wrote subsequently:...
Hope for junior doctors
It is challenging to see what God is doing among junior doctors today. Meeting junior doctors at various occasions, including weddings, I have found that some are greatly enjoying their training and feel they are in the right place, some have failed to find training posts, have become depressed and...
Communications and Publications
Electronic issues Are you getting e-communications? For more than a year, CMF has been sending out roughly monthly an eNewsletter with links to let you read as much or as little as you have time and inclination for. We have had encouraging feedback from members who appreciate the news itself...
ICMDA International Christian Medical and Dental Association
Regional growth and development Implementing ICMDA's regionalisation policy is resulting in much expansion. New contact groups are regularly identified, with members expressing the intention to form national organisations. Out of such beginnings, now happening in a number of countries, a further member organisation will emerge, adding to the size of...
Mission Matters - Keeping in touch and ongoing intercession for members working abroad
New Head of International Ministries We are delighted to announce that Vicky Lavy has been appointed to head the international work of CMF and will take up her post on 1 September. She is ideally qualified to take on this much expanded role, which hopefully will draw all the...
Allied Professions
Nurses Christian Fellowship International (NCFI) In April the European Committee (which I chair) met in Cluj-Napoca, Romania at the invitation of a group of Christian nurses in Cluj seeking to form a national fellowship. To further that end, they had agreed to host the 2010 NCFI European Regional Congress, held...
PRIME Partnership in International Medical Education
PRIME has had the honour to teach in around 30 countries in all five continents. We do not evangelise, but put God's values within the core of academic medical truth: caring for and valuing the sufferer's spirit, and also the doctor's. God has blessed us richly. For example, over 2,500...