nucleus: autumn 1992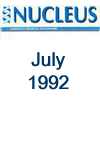 Miraculous Healing - a Biblical Start
Extreme views and the truth Unfortunately, it is often the extreme points of view which make 'good press' that are reported, and to arrive at a balanced opinion we must be aware of all the issues involved. This is often difficult, as the subject is so vast, and a number of...
Differential Diagnosis 1
Spontaneous headache of sudden onset in a child resulting in death in less than four hours would most probably be due either to acute bacterial meningitis or subarachnoid haemorrhage. In this particular case the absence of fever, lack of other constitutional symptoms and speed of onset and progression make subarachnoid...
Dionysius Dialogues - Judging Right and Wrong
Nitpickerus: Dionysius, there is a lot of disagreement even among Christian doctors about what constitutes ethical behaviour. Dionysius: I've noticed! Nitpickerus: How can we resolve this? Dionysius: We need to start by understanding something about how people think with regard to ethical issues. Almost all people, whether...
Lemuel's Limericks
A student who'd bristled with fear When finals came got into gear With eyelids not battin' she broke into Latin And finished up top of the year An obsessional student from Barts Percussed out the borders of hearts But the story's a twist, auscultation he missed Now he's doing a course in the arts A resident...
Know Your Bible 3
Answers Mephibosheth was crippled in both feet. He was a son of Jonathan to whom King David showed kindness because of his love for Jonathan. (2 Sam 9:1-13). Zechariah the priest temporarily lost his tongue on account of his unbelief, and didn't speak until eight days after his first child, John,...