nucleus: winter 1992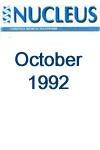 My Search for Truth
I would like to share with you how I became a Christian (nearly six years ago), and the impact it has made on the way I live. I come from a Greek Orthodox Christian background, although this personally meant nothing to me, as in the Greek community you cannot separate...
Back to the Beginning?
Well assuming that you actually looked at the front cover and read the editorial, you should be aware that this is the 21st birthday edition of Nucleus. To celebrate this auspicious occasion we decided not to took to the future as one might expect, but rather to the past and...
The Battle for our Minds - the Supernatural and Mental Illness
Psychiatry and Christianity Why write about Psychiatry and Christianity? Psychiatry is becoming increasingly relevant for all doctors. The importance of understanding the psychology of patients in all areas of medicine and surgery is being recognised. In the past, often the mind (or 'psyche') and body have been seen as separate, unrelated...
Differential Diagnosis 2
The quick onset, rapid spread and early mortality of the illness afflicting the Philistines suggests that the 'tumours' were inflammatory rather than neoplastic. The weight of evidence[1] implicates Yersinia pestis as the pathogen, making this probably the earliest recorded outbreak of bubonic plague in human history. The disease is transmitted...
Dionysius Dialogues - Murder
Faith and works Nitpickerus: You argued last time that although as Christians we have received eternal life as a gift,[1] we are still required to obey God's commands. Dionysius: Yes. Obedience is one of the tests as to whether our faith is genuine or not.[2] Nitpickerus: But we can't obey without...
Lemuel's Limericks
A renal physician from Gwent Had planned to consult in a tent When the day came around, not a peg could be found For the budget was already spent A Calvinist doc from Dundee Had poured out a hot cup of tea It was as he first sipped that his bleeper bleblipped (It just wasn't predestined...
Know Your Bible 4
Answers Despite being a hundred and twenty years old when he died, Moses' eyes were 'not weak', and as a result he was able to see (but not enter) the promised land. (Dt 34:4-7) Timothy had stomach trouble for which he was advised to stop drinking only water, and use a...