nucleus: spring 1999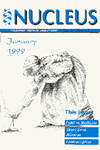 Editorial
Are we medics who happen to be Christians, or Christians who happen to be medics? If following Jesus Christ is the focus of our lives, we will not be able to divorce our faith from the medicine we practise. As Christians we recognise Jesus as being the way, the truth...
News Review
Euthanasia Fears Prostitution Students' Views on Abortion Fetuses to be given painkillers Contraception Update Smoking News Smoking causes Cancer in Fetuses Genetic Selection Choosing your Baby's Sex Alternative Treatments are Harmful Drug Abuse and Testing Organophosphate Testing on Students Human Genome Project Rising Student Debt Arm and Face Transplants Controlling...
Wide Open
Are you struggling to respond to today's pluralistic society as a faithful witness for Christ? Then you may be interested in Wide Open, an intensive four week course at the Institute of Contemporary Christianity in London. Last summer I joined 50 other Christians in their twenties from around the world...
Post-Coital Contraception
The Family Planning Association (FPA) and Pharmacy Healthcare Scheme joined forces this Christmas to encourage the use of emergency 'contraception'.[1] The FPA estimates that 650,000 prescriptions are written each year for emergency contraception and that the overall risk of pregnancy after a single episode of unprotected sex is 2-4% rising...
Abortion and Conscientious Objection
A third of junior doctors are refusing on moral grounds to perform abortions according to a study conducted by the Abortion Law Reform Association (ALRA).[1] In some NHS hospitals all juniors have exercised their right to conscientious objection under the 1968 Abortion Act. David Paintin, emeritus reader in gynaecology and...
Second Opinion
Imagine your medical student days are over and you are now a general practitioner. You are doing a clinic and the following cases present. Would you consider or even recommend abortion? Case one: A pastor and his wife who are extremely poor, have 14 children and mounting debt, are now...
Bringing Faith and Medicine Together
In the beginning, faith and healing were integrated. The priest was the healer and the temple or shrine was a place where healing could occur. In the Bible the Hebrew word 'yeshuwah' means both salvation and health. The Greek verb 'sozo' means to save, to heal, and to make whole....
Faith in Practice: Obstetrics and Gynaecology
Pam, can you describe a 'typical' week? My average week contains one or two operating lists, one of which may be a day-case list. It is my routine to visit the 2 or 3 major cases on the ward, either the afternoon before, or the morning of their operation (in...
Contraceptives' Mode of Action
The status of the embryo is one issue that has profound implications for the way we practise medicine; not least for the advice we give about contraception. Contraceptives usually act by one of three ways; by preventing ovulation, by interfering with sperm and ovum transport, or by preventing implantation of...
Short-Term Medical Missions
The great commission (Mt 28:18-20) is given to the whole church, and its message should involve people from all areas and backgrounds. Missions began with the early church, have continued through the ages, and should not just pertain to the church from the so-called affluent area of the world. The...
Fishing the Net
One of the greatest challenges in Christian mission today exists in the '10-40 window' (referring to the area between 10° and 40° North of the Equator). This is where most of the world's 'unreached people groups' live and the area is predominantly Muslim, as described by Martin Tansworth in his...
Differential Diagnosis 27
One traditional view is that this was gout. Although rarely fatal, gout (hyperuricaemia) can lead to chronic renal disease and hypertension. Peripheral vascular disease can cause discolouration of the feet and legs. Circulatory dysfunction of the extremities can predispose to gangrene and this, with systemic complications, can lead to death....
Letters
The recent UCCF leadership training course, FORUM, raised the intriguing question: 'Where have all the men gone?' Members of Exeter University CU had become aware of an imbalance in the ratio of males to females in the CU. It was suggested that once the ratio exceeded 40:60 in the CU...
Matters of Life and Death (Book Review)
Fetal screening, abortion, reproductive technology, genetics, infanticide, euthanasia and physician-assisted suicide. Today's healthcare dilemmas raise fundamental questions about what it means to be human. This thoroughly researched book comes at a crucial time in the fast-changing climate of contemporary medicine. John Wyatt presents a credible and challenging Christian response to...
Practising Faith In A Pagan World (Book Review)
Do you ever feel that you are becoming isolated as a Christian in an increasingly secular world? Do you find it hard to hold onto your Christian principles in today's pluralistic society? Are you a Christian at university? If any of these apply to you, this little book is an...
Know Your Bible 29
Answers Simeon and Levi insisted on the circumcision of the Shechemites, ostensibly to prepare for intermarriage. Instead, Jacob's sons took disproportionate revenge for their sisters' rape by slaughtering them during their convalescence (Gn 34). The teaching of those who indulge in godless chatter is likened to gangrene (2 Tim 2:16-17). Barzillai...