nucleus: spring 2004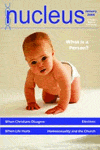 Editorial
Many of the arguments Christians put forward in ethical debates revolve around what we perceive as the sanctity of life. This is the intrinsic value bestowed on each of us simply because we are human and thus known and loved by God. His image stamped on us (Gn 1:26,27) is...
An Issue of Justice?
Some years ago a very gifted young man, call him James, took a year out from his studies to work with me as a pastoral assistant in the local church where I was vicar. The experience was a great success and modelled a pattern of working that I have repeated...
News Review
Curate wins abortion review Reaction to partial-birth abortion in the US UN blocks cloning ban Diane Blood re-registers her sons How many parents do you have? Cheaper HIV drugs Global HIV rates at record levels Civil gay partnerships BMA calls for review of ethics teaching And finally… Curate wins abortion review...
What is a Person?
What does it mean to be a person? Is it possible to be a human being but not a person? What duties do we owe to persons as opposed to non-persons? These sound like the abstruse musings of philosophers light years away from the practical issues of modern medicine. But...
When Christians Disagree
Unity and truth In the garden of Gethsemane, before Jesus went to the cross,[2] his mind was not on the rejection and suffering he was about to face; but rather on how his disciples were going to survive after his departure. He wanted them to be 'in the world' (v13),...
When Life Hurts
In a single day Laura's world fell apart. Until last week, life couldn't have been better. She was in the prime of her life, very happily married with two children aged six and two. The only warning she had was a slight visual disturbance. She thought she ought to ask...
The Forgotten People
After four years of studying medicine in south east London, I was looking forward to my elective. Electives are fantastic opportunities; not only can you learn about healthcare in other parts of the world, but you can also be a part of what God is doing in the most deprived...
Ethical Enigma 6
There is no straightforward answer to this one and it is not an uncommon scenario for a GP. Many doctors would consider this as a 'heartsink patient'. Our attitudes as Christians have got to be different though. The man before you is loved by God and, however desperate his situation appears...
If You Want to Walk on Water, You've Got to Get Out of the Boat (Book Review)
Procrastination, avoidance and escapism; three things most medical students are often guilty of! They may have little obvious impact on your life but, if we look at the bigger picture, they probably stop a number of us from realising the potential God has for us. John Ortberg uses the account...
Question Time (Book Review)
In a society driven by consumerism and technology, our knowledge and capabilities continue to advance at a frightening rate. At the same time, a postmodern culture with no moral absolutes leaves individuals ill-equipped to address the tricky issues such developments bring. As Christians, this presents us with a tremendous opportunity:...
Letters
Editor, As I sat reading Nucleus in a desperate attempt to do some work without actually working, I found myself stumbling across the words 'why did I ever take up medicine?' This immediately caught my eye. I was in my fourth year of medical school, getting closer and closer to...