nucleus: winter 2002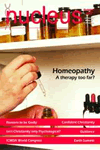 Editorial
Autumn is traditionally a time of new beginnings in the academic world. For some of you, this may have meant moving away from home, leaving friends and family and starting medical school. For others it may have been starting house jobs whilst, for many, the start of the new term...
Confident Christianity
Do you ever feel that your evangelism skills could be honed? Do you long to get the gospel message through to your friends but struggle to communicate? Or perhaps you worry about the difficult questions that might get thrown at you should you share your faith. If you can identify...
Earth Summit
The statistics are mind-boggling: 14m people dying each year from communicable diseases; 1.1bn without access to clean water and a further 2.4bn without adequate sanitation; ten million threatened by famine in southern Africa; the world's five largest companies together earn more each year than the combined income of the 46...
News Review
MRC announces UK stem cell bank IVF mix-up HFEA u-turn on 'designer babies' Fertility treatments recommended too soon Gamete donor anonymity should be maintained Accusations over easy abortions Cloning latest Assisted suicide for visitors to Switzerland New archbishop provokes mixed reactions GP struck off for trading human organs MRC announces...
Homeopathy - A Therapy Too Far?
Amongst the alternative therapies available today, homeopathy is one of the most controversial. It has sometimes been described as 'the therapy that can't work but does work'. Investigation, however, suggests that it is far easier to appreciate the first part of this statement than to substantiate the second. Homeopathy derives from...
Reason to be Godly
What is the most important thing in your life? You may be surprised to know that, biblically speaking, whether you are a doctor or not, whether you are rich or poor, married or single is really not that important. But there is one thing that is absolutely essential: that you...
Deadly Questions - Isn't Christianity Only Psychological?
'If God did not exist it would be necessary to invent him.' This quote, from the 18th century French philosopher, Voltaire, sums up the thoughts of many non-Christians. Weak human beings feel the need for a higher power to make them feel secure in an uncertain world, so they invent...
My Sheep Hear My Voice
Five years ago God answered a prayer I should never have prayed. When I was 18 I said, 'God, if it is right for me to go to Hong Kong for a year, please confirm it by having someone give me £50.' No one did and I stayed in Ireland....
ICMDA World Congress 2002
Taiwan is also known as Ilha Formosa, 'the beautiful island'. It is a small nation of great contrasts: a modern industrialised megalopolis clinging to the fringes of an ancient culture; a string of teeming cities at the feet of a glorious mountain range. Yet because of its relationships with mainland...
Ethical Enigma 1
This is a difficult and emotionally charged area. One of the most important points to remember is that this couple has already experienced a great deal of emotional and psychological pain. We must be sensitive to this and respond to them with compassion and love. We need to treat them...
Brave New Worlds - Genetics and the Human Experience
Bryan Appleyard is well established as one of today's most respected science commentators. In view of this Brave New Worlds ought to terrify us. Appleyard argues that the 'mighty gene', as it is currently being promoted, is likely to devastate the way our culture views spirituality, removing the last vestiges of...
Meltdown - Making Sense of a Culture in Crisis
What is truth? Can we ever really know what truth is? Why should 'your' truth be the only truth? Have you ever been on the receiving end of such questions? Perhaps you've been caught up thinking these thoughts yourself. If so, welcome to postmodernism! Think 'postmodernism' and what's the first thing...
Letters
Editor, I'm writing to give comment on the revised appearance of Nucleus. The make-over of this journal was long overdue, lagging behind its graduate counterpart Triple Helix. However, it was well worth the wait. I was very impressed by the coloured front cover, graphics in general, text layout and the fact...