nucleus: summer 2002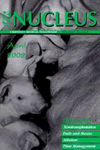 Editorial
In the days when our consultants were students, university life was different. When asked, they reminisce about those good-natured pranks they played in the dissection room or that historic win in the Hospitals' Cup 'rugger' final. This is not to say life was ideal at that time, but the reality...
Giving and Receiving
'Curiosity without compassion is inhuman; compassion without curiosity is ineffective' Victor Wiesskopf [1] In early January, two companies announced dramatic advances in genetic engineering. The advance was the successful cloning of animals lacking the gene causing organ rejection in humans.[2] This development brings us one step closer to xenotransplantation, the ability to...
Ends and Means
The House of Lords' Select Committee on Stem Cell Research has just granted permission for cloned human embryos to be produced for research on the grounds that they are necessary to develop treatments for degenerative diseases like Parkinson's, Alzheimer's and diabetes. Whether they provide the only potential means of treatment...
News Review
'Designer baby' given the go ahead Cloning loophole closed UK cloning decision Chinese claim first place in cloning race Dolly has arthritis Scientists clone a cat Couple must choose between Siamese twins Doctor reprimanded for giving rape victim anti-retrovirals Morning-after pill advert sparks criticism Irish reject tougher abortion law Abortion...
Answering Atheism
'Where there are three doctors, you will find two atheists.' This old Renaissance proverb is borne out by surveys of the worldviews held by medical students. The predominant belief system in medicine is atheism. How can we tackle this stronghold of false belief? A belief system at odds with reality At...
If I Could Turn Back Time - Fitting a Life into your Lifetime
Time is a strange thing. We never seem to have enough, yet we sometimes just kill it. Time can drag or fly by, but we cannot have our time again. As medics, we often feel that we never have enough hours in the day to do all there is to...
Deadly Questions - Isn't the Bible Full of Errors
Virtually every area of apologetics stands or falls on the Bible. We claim Jesus is the only way because he made that clear in the Bible. We also know that God will be fair to those who've never heard the gospel because of his character revealed in the Bible. Without...
Responding to the culture of death (Book Review)
This short, easily read and very challenging book is not to be missed by any Christian medic! The introduction gives a brief historical overview of how our country has shifted in its thinking over recent decades. There has been a change from a culture of life to a culture of...
Letters
Editor, My flatmate is a medical student who receives your journal, which I occasionally read. However, I was disturbed by your editorial about the Dianne Pretty case. I am personally appalled that this woman is being denied the right to end her own life. We are told we are free to...