nucleus: summer 2000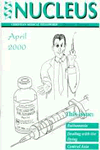 Editorial
Are you feeling a little world-weary? Perhaps you are tired of trudging the wards each day, part of a faceless medical system, wondering if your presence really makes any difference. Or maybe you're frustrated by the godlessness and injustice of our society. A brief flick through News Review (pp 4-10)...
News review
GP found guilty of 15 counts of murder Belgium considers legalising euthanasia Physician Assisted Suicide The Winterton Bill Lords block Section 28 repeal Developing World Debt to be Cancelled Majority of HIV carriers are unaware of their status New HIV Test Discovered Cancer and Genetics First Full Human Chromosome Unencoded...
Against the tide
Going on strike? Student Debt? Safety on Electives? These are just a few of the issues discussed by the BMA Medical Students' Committee (MSC), which is made up of representatives elected from each UK medical school, as well as members nominated by other committees within the BMA. It meets three...
Euthanasia
The Harold Shipman case has shocked the nation - how could a doctor held in trust by his patients dispatch as many as 170 of them without raising suspicions? It is a chilling reminder of the privileged position doctors hold, and the need for safeguards against the abuse of such...
Dealing with the dying
Death is one of the last great taboos in our society. Surrounded by images of death in the media, modern western society can make it all too easy to insulate ourselves from the reality of death in our own lives and to be unprepared to deal with it 'in the...
More tales from Central Asia
Feeling jaded, I was relieved to see the rest of the team arrive at Heathrow. As the plane left the runway it was a thrill to start our journey. For me it was also to be a homecoming, the fulfilment of a vision. In 1998 I spent my elective in...
Testimonies from medical school
Giving the reason I have been struck by how powerfully God works to provide us with evangelism opportunities if we will only pray and then watch out for them! I can think of several examples in my own life that bear this out strongly. I am a fourth year clinical student...
Differential diagnosis 31
In this passage we find that the centurion is a man of action as well as a man of faith. If he were to tell his servant to do something then it would be done straight away. We can deduce that the centurion's servant was previously well and presume that...
Know Your Bible 33
Answers 'I take no pleasure in the death of the wicked', the Lord declares to Ezekiel, 'but rather that they turn from their ways and live. Turn! Turn from your evil ways! Why will you die, O house of Israel?' (Ezk 33:11) 'Can a mother forget the baby at her breast...?...