nucleus: winter 1998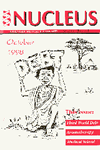 Editorial
Saying goodbye is never easy. It's no different when it's a journal. My upcoming elective and then the looming horror of finals mean that it's time to lay down the editor's pen for someone else to take up. My time at Nucleus has been a privileged one. I have learnt...
Euthanasia
Deadly doctors However, Newcastle GP Dr David Moor was charged this September with murdering one of his patients.[2] The trial begins in Newcastle Crown Court on 19 October. This followed Dr Moor's admission in July 1997 that he had helped 'a large number' of patients to die during his 30 year...
Straight and Narrow-Minded?
Anglican bishops hit the headlines in August with a controversial ruling on the church's attitude to homosexuality. After much debate, liberal (mainly Western) bishops, were defeated by a huge majority at the ten-yearly Lambeth conference. Whilst having no legislative authority, its rulings are important for the world's 70 million Anglicans...
News Review
Physician-Assisted Suicide Abortion Smoking Gene Therapy for HIV? AIDS Vaccines to become available AIDS Epidemic Female Genital Mutilation Students and Cannabis Cloning Infertility Treatments Sterilisation Alternative Medicine Developing World: Debt and Aid Physician assisted suicide At its annual conference the BMA has called for a full and frank debate into...
Health, Poverty and Developing World Debt
The developing world is still a popular destination for medical students on electives. Some are drawn by the chance to experience a new country and a different culture. Others go because of the opportunity to get 'hands on' experience and still others to test a 'calling' to future work in...
Aromatherapy - the Right Scent to Follow?
Although there is an emphasis in these days on the use of modern technology and the practice of evidence-based medicine, many alternative therapies, for which scientific evidence is somewhat lacking, are flourishing and spreading rapidly into all levels of healthcare. Whilst aromatherapy is by no means the most popular of...
Medical School - A danger to your Faith!
Introduction Many of my Christian friends at medical school have now lost their faith entirely. Others are not as strong in their faith as they once were. Why should this be? What part does medical training play in the 'derailment' process? This is an issue that desperately needs highlighting among Christian...
South Africa - Just a Great Holiday?
Wow, I'd love to go to South Africa. I can go on safari and see lots of animals.' That was my immediate thought when I first saw the brochure for the 11th World Congress of the International Christian Medical and Dental Association (ICMDA) in Durban. Log fires On arrival at the...
Deadly Questions...on Prenatal Screening
Search and destroy The Human Genome Project's aim of locating all our 100,000 genes (including those causing or predisposing to about 6,000 inherited diseases) is already well underway and should be largely fulfilled by 2004. In the last eight years about 30 major gene companies have been launched and over 2,000...
Fishing The Net
Pre-natal diagnosis is one of the areas where new techniques and abilities in the world of medicine provide us with new ethical problems. A good website on the subject is www.fetal.com, with vast amounts of information on this and related topics. There is also some material here, although you will...
Differential Diagnosis 26
Let's first examine the facts of the case. We are not told the age of the woman but we are informed that she had been suffering from a deformity of the spine for 18 years. She was bent over (Greek synkyptein - 'bent together') and unable to straighten herself up...
Know Your Bible 28
Answers Jonah, angry that God had shown compassion to Israel's enemies (Jon 4), sheltered beneath a vine. But when a worm attacked the plant he suffered sunstroke. God revealed the lesson he was teaching in the closing verses of the book. Og, King of Bashan, had an iron bed that was...