nucleus: autumn 1997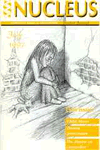 Editorial
This edition of Nucleus has largely passed me by. It comes in the middle of pathology exams, making my title as editor feel a little dishonest! In fact, almost all of the editorial team have been afflicted with exams and much work has been pushed onto a few people. Thankfully,...
News Review
Japanese Parliament recognises concept of 'Brain Death' Shortage of organs for transplants continues Worldwide ban on human cloning E.coli genome sequence unravelled First artificial human chromosome Hillsborough survivor emerges from persistent vegetative state BMA revises Hippocratic oath to sanction abortion Northern Territory euthanasia law overturned Roussel-Uclaf drop production of 'abortion...
Child Abuse
Gemma sat on the trolley in casualty, her wary eyes taking in everything I did as I quietly talked to her father and examined her. She had been brought in because of some minor injuries. She was noted to have several other bruises which were not extensive and would all...
Demon Possession and Mental Illness
Christians have held many different views on how we should apply New Testament accounts of demon possession (or 'demonisation') to the construction of a contemporary understanding of spiritual and mental disease. Following the enlightenment, and particularly within more academic or scientific circles, it has been popular to 'demythologise' the Gospel...
Doctor as counsellor
Communication Communication can be seen as conveying facts or information, but genuine communication is always seen in the light of a relationship. Good communication in a Doctor-Patient relationship requires trust, acceptance and understanding. The tone of voice and the body language expressed within this relationship may communicate a lot more than...
Why does God allow suffering?
As doctors we are exposed to suffering in a unique way. For us, it is not something that just happens on a television screen to people we neither know nor meet. We grapple with it in our patients each day. Unless we want to insulate ourselves by becoming cynical and...
Differential Diagnosis 21
The men of Israel indulge in sexual immorality with Moabite women and are led into idolatry. God sends a plague because of their disobedience. (See 2 Pet 2:15, Jude 11, Rev 2:14 for New Testament insights into Balaam and his involvement in the Israelite downfall.) As the plague is associated...
Dionysius Dialogues - Ethics
Nitpickerus: How can a Bible written 2,000 years ago speak to the ethical situations we face in the late 20th century? God Doesn't Change! Dionysius: Because the Bible is God's Word, and God doesn't change.[1] He's the same yesterday, today and forever.[2] Nitpickerus: Yes, but the Bible was written to a...
Christian Choices in Healthcare (Book Review)
Christian Choices in Healthcare, an outstanding collection of essays by senior Christian doctors, has been widely distributed to students attending the last two annual CMF conferences. Divided into two parts, Christian Vocation in Healthcare and Medical Ethics, the essays are solidly written and most are deeply grounded in Scripture. The...
The Colour of Darkness (Book Review)
When I returned from my elective in Zaire, I realised that I knew little about tribal conflicts and the movements of Rwandan refugees. It seemed as if the news coverage over the past three years had passed me by. I had never stopped to think about the realities: God's people,...
Know Your Bible 23
Answers Priests had blood put on their right ears at their consecration (Ex 29:20; Lv 8:23). The same act constituted part of the cleansing process for healed lepers (Lv 14:14). The Apostle Peter cut off the ear of the high priest's servant with a sword (Jn 18:10). Jesus then touched the...
Lemuel's Limericks
A medical student who crams While reading for final exams To accomplish the feat must remember to eat To avoid losing thousands of grams Maintaining one's state of nutrition Will stave off cerebral attrition And help to ensure one can ably endure All those stresses that threaten cognition In practice it's seldom one sees In those...