nucleus: winter 1995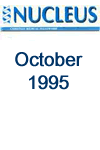 Editorial
With the departure of Dr Warnock to pre-registration pastures, the task of composing the Nucleus editorial fell to the next longest in tooth on the team. Our original format is retained for yet another issue - we plead that under the lawful adjustment of internal boundary stones (Dt 19:14) chaos...
Homoeopathy - a christian medical perspective
For Christian and non-Christian physicians alike, homoeopathy is a controversial issue in the rapidly exapanding field of alternative medicine. This article aims to define homoeopathy, outline existing evidence for and against its effectiveness, and explain the reasons for the controversy amongst Christians. I shall conclude by suggesting an appropriate Christian...
Christians and Contraception
The Morality of Contraception Those of us who have been involved in the abortion debate for many years will have found the question of contraception arising from time to time. It is an issue that is related and yet different. First of all what is the basis for accepting that...
Surrender or Suffocate
My personal struggle with surrender It was two weeks before Christmas on London Bridge Station. In my third year at Cambridge and in need of some ready cash the opportunity of night-portering on London Bridge Station in the run-up to Christmas seemed a good opportunity. The work was not over-demanding between...
Words from the wards
I arrived on the 31st July on a sweltering summer's day. Unfortunately, my room happened to be on the top floor, so it was a sweaty business carrying all my luggage up the stairs. The Lord was very gracious in giving me a large bedroom with my very own sitting...
Luke the Physician - A Portrait
We don't know a great deal about Dr Luke, but a certain amount of information can be pieced together from his writings and from the rest of the New Testament. Unlike the other New Testament authors he was almost certainly a Gentile rather than a Jewish Christian. He was a...
Differential Diagnosis 14
After his encounter with the risen Jesus, Saul (as he was then) was blind for 3 days (Acts 9:9), and his sight was restored (9:17-18) when 'something like scales' fell from his eyes. In later years Paul's eyesight was poor. He refers to a personal illness in his letter to the...
Dilemmas
How far is too far? We live in a society that is obsessed by sex. It is everywhere. Part of the entertainment on television; selling magazines which give hints, tips and check whether we are 'normal'; the latest newspaper scandal; or someone trying to sell us something. Sex is no...
Dionysius Dialogues - Money
Shortfalls and slothfulness Nitpickerus: As I said Dionysius, my problem is not my millions in immobillsed assets, but the size of my overdraft. The average medical student debt on graduation is now £4273! Doesn't the Bible say we should 'owe no one anything'?[1] Dionysius: It does, but both 01d[2] and New[3]...
Come Walk with me (Book Review)
The heat from the blazing sun is unbearable, not a breath of wind stirs as a bead of sweat trickles irritatingly, like a fly, down one cheek. The watcher, a white Westerner, from the shade of his four-wheel-drive screws his eyes against the glare and so seeks to penetrate the...
Know Your Bible 16
Answers Heartache, or a deceitful tongue, both crush the spirit. By contrast, a happy heart makes the face cheerful and the tongue that brings healing is a tree of life. (Pr 15:4,13) An anxious heart weighs a man down, but a kind word cheers him up. (Pr 12:25) The Apostle Paul...
Lemuel's Limericks
A Christian from Clacton-on-Sea Knew just where he wanted to be So humbly confessing the need for God's blessing He sought his will diligently He laid out a fleece on the ground (A technique that's biblically sound!) And as it transpired the sign he desired Was just what he (finally!) found Not wanting from Scripture to...