CMF news: summer 2017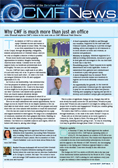 PDF version
(right-click and choose 'save as...' to download)
Why CMF is much more than just an office
The mission of CMF is to unite ande quip Christian doctors and nurses to live and speak for Jesus Christ. We long to see lives transformed by the power of the Gospel, through discipleship, evangelism,mission and promotion of Christian values. And yet we only accomplish a fraction of what is...
communications, staff, nurses public policy
Communications Resources from CMF Four booklets So far this year CMF has launched a new booklet series written by Dr Peter Saunders, CMF CEO. Each booklet costs £2.00 +P&P and is available from the CMF bookstore: www.cmf.org.uk/resources/bookstore Serving in Babylon - an overview of the early chapters of Daniel.Christians living in 21st century...
graduates, students, public policy
National Conference 2017 Pablo Fernandez and Olive Frost reflect on this year's conference Pablo says, 'Since 2011 the National Conference has been the highlight of my year in CMF. Each year it has been a great encouragement and 2017 did not disappoint. With the current format designed to include all sectors of...
international, members
International International Track update We are delighted to report that 24 medical and nursing students have joined this new programme tailored for people who feel called to medical mission. CMF has a rich heritage of supporting health professionals in crosscultural mission. Over 200 members work in various forms of cross-cultural work...