CMF news: summer 2018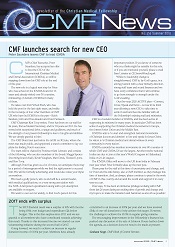 PDF version
(right-click and choose 'save as...' to download)
CMF launches search for new CEO
CMF's Chief Executive, Peter Saunders, has accepted an offer to become CEO of the International Christian Medical and Dental Association (ICMDA), so will be stepping down from his CMF role at the end of this year. The new role is a logical next step for Peter who has served on...
2017 ends with surplus
The 2017 financial result was a surplus of £7k with income being £90k over budget and expenditure £2k below budget. This is the first surplus since 2011 and we are grateful to all members who have contributed towards achieving this result. Thanks to this increased income we started our new...
Communications:all change
With John Martin's retirement in May and Steve Fouch taking over as the new Head of Communications in June, it has been a time of transition for the Communications team. We have been busy over the spring and the summer getting a new edition of Foundations published. This is...
Final year students: welcome to the profession
Congratulations to all of our final year nursing and medical students who passed their last exams, placements and have been on elective. All the years of hard work and study have paid off - welcome to the profession. Wishing those starting foundation jobs or preceptorships this August all the very...
Advocacy:a challenging year
We can't remember a time in CMF when we faced more public policy challenges all at once. It's further evidence of the rapid secularisation of Britain and the escalating hostility to Christian faith and values. The public policy team of Philippa Taylor, Rick Thomas, Steve Fouch and Peter Saunders have been...
Junior doctors' conference: 26-28 October 2018
'Life in a hostile world' is the theme for the 2018 CMF junior doctors' conference. It will once again be held at Hothorpe Hall, set in beautiful rural Leicestershire. The main speaker is Rev Mohan Seevaratnam, a GP in Harrow, north-west London who has worked as a missionary in Sri...
hellos and goodbyes
Georgina Lawton joins us as Associate Head of Nursing. She is based in the Midlands and will be working with student and qualified nurses in the North and Midlands from October. Georgina is a staff nurse at Royal Stoke University Hospital and is actively involved with the leadership of a local...
Volunteering:working as one body
I'm often asked why we use the term 'volunteer' at CMF. It evokes different images for each of us, some not so positive. We are, however, determined to see volunteering through a biblical lens. One such lens is that of being a servant. We serve because we lay our lives...
Week of prayer for nurses
During International Nurses' Week (12-18 May) we ran a week of prayer for nurses under the theme Thank God For Nurses . We ran print, web and social media prayer prompts and resources for members and the wider church, using the hashtag # ThankGodForNurses on Facebook, Twitter and...
Nurses
One of the priorities of the Nurses Department is to raise up and invest in young nursing and midwifery leaders. To this end, we held a retreat day for our student reps on Saturday 16 June. Rachel Hickson came to speak with her colleague Rev Helen Azur of Heartcry for...
CMF Global
Following our strategy review, we have spent the early part of this year seeking to build our relationships with other agencies, such as All Nations Christian college and London School of Hygiene and Tropical Medicine. We trust that closer cooperation will lead to more supportive placements for our members as...
CMF General Committee meets
CMF's member body, the General Committee, met on Saturday 30 June at Johnson House in London to appoint the trustee board, receive reports and feed into the planning and ministry of the Fellowship. After three years as Chair, Ken Toop stepped down and Maggy Spence is now the new Chair...