CMF news: Spring 2019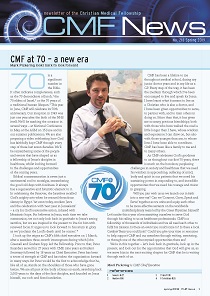 PDF version
(right-click and choose 'save as...' to download)
CMF at 70 – a new era
70 is a significant number in the Bible. It often indicates completeness, such as the 70 descendants of Jacob, (1) the 70 elders of Israel, (2) or the 70 years of a traditional human lifespan. (3) This year in June, CMF will celebrate its 70th anniversary. Our inception in 1949...
Finances
At the time of writing, we are busy with the accounts for December 2018. The most recent completed accounts are for September 2018. Total income for the first nine months of the year is £23k higher than budget, which reflects the donations made to support the growth in ministry in...
CMF pastoral care
CMF's ethos has always been to enable Christian doctors to live out their faith in the workplace. But what does that really mean? When you are over-committed, tired and challenged at multiple levels, how do you apply God's word and find 'grace to help in time of need'? The pressures...
Volunteering
Catalyst Teams Catalyst Teams are up and running across the UK and we are excited at the potential they have to change the way we 'do CMF' across the country. Six teams are currently functioning with at least four more in the pipeline. Team roles enable members to serve in an...
Student Conference 2019
Nearly 400 medical and nursing students gathered at Yarnfield Park in Staffordshire in early February to 'work, rest and pray' together for a weekend. The fun began even before the students arrived as some of them participated in carpool karaoke - a conference tradition that is growing in popularity. This year,...
Graduates
Senior Doctors' Conference Are you a senior doctor looking to make changes in your working life, or considering or coming up to retirement? Or perhaps just reflecting on how being a disciple of Jesus permeates your work, family and Christian ministry? This year, CMF is launching our inaugural Senior Doctors' Conference from...
Nurses
Writers' Day Course In March, we held our second writers' day course for nurses and midwives, led by the indefatigable Andrew Fergusson. The aim of the day was to identify nurses and midwives who have a real passion for writing, and to help give them more skills and confidence. We also...