CMF news: winter 2001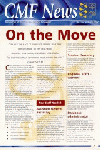 PDF version
(right-click and choose 'save as...' to download)
On the Move
'Enlarge the place of your tent, stretch your tent curtains wide, do not hold back; lengthen your cords, strengthen your stakes. For you will spread out to the right and to the left...' (Isaiah 54:2-3) CMF's prime focus is to equip and encourage Christian doctors to fulfil Jesus' dual commission...
New Staff Needed
Assistant General Secretary We are looking to develop CMF's ministry by appointing a full-time medically qualified Assistant General Secretary to work alongside Peter Saunders and share his current duties, covering the full range of CMF's activities. Post-graduate medical qualification required, along with significant experience in Christian ministry and administration, and a...
Staff News
Our new Overseas Support Secretary, Peter Armon joined the CMF staff on 1 December: Peter, tell us something about your early background I was born and brought up in London's East End and converted under the ministry of Billy Graham. I was a medical student at Charing Cross Hospital, qualifying in...
Members' News
Congratulations On their postgraduate qualifications... MRCP James Myerson On their awards and appointments... If you have recently received an award, a new appointment or postgraduate qualification please let us know for the next edition of CMF News. Obituaries We report the deaths of the following members and offer sympathy to their families: Guy Constable...
Upcoming Conferences
CMF National Conference - 26-28 April 2002 You will have received a brochure for this, the main graduate event of the CMF year, with this edition of Triple Helix. We look forward to seeing you there. Please book soon. Juniors' Day Conference - 16 March 2002 Plans are already being made for...
Conferences Reports
CMF Autumn 2001 Conferences The autumn conference season is now over, and has been a great success with over 500 CMF members in total attending weekend or day conferences for fellowship, encouragement and teaching. Expect to see write-ups of some of the talks in Triple Helix over the coming months. Conferences...
Students
Regional Staffworker News CMF has three regional staffworkers: Ruth Selwood (West UK), Tim Lewis (Ireland) and Malcolm Savage (Northern England). All our staffworkers produce regular prayer letters so if you would like to support any one of them in prayer please let us know. We are still looking for staffworkers for...
International Christian Medical and Dental Association
South America Nine South American countries were represented at ICMDA's first South American Regional Conference held at Punta del Este, Uruguay, 12-14 October 2001. An extremely well-organised conference attracted almost 250 participants. The theme was on family life and each morning began with Bible readings by Dr Rene Padilla with some...
Finance
For the first time in over 30 years, the accounts of the Fellowship reveal the true financial picture, since the CMF Trust Ltd and Fellowship accounts have now been combined. This means greater transparency, and greater accountability to the Fellowship - good news all round! The nine months Fellowship accounts are...
Future Vision - January 2002
Fellowship God's plan is to save a people not individuals - in order that those people may be with him and be sent out (Mk 3:14). Fellowship with other Christian doctors is vital in order that we can stir one another up to love and good works (Eph 4:12, Heb...