London - King's College London (GKT)
Welcome to CMF at King's medical school, or GKT. We are a group for medical students who want to know what it means to be Christian doctors. If you are at GKT (or are soon to begin studying here) and want to know more - whether you are a Christian, or just curious - please email Natassia or Rebecca using the links below, and we can keep you up to date about what's happening this term. We'd love to hear from you!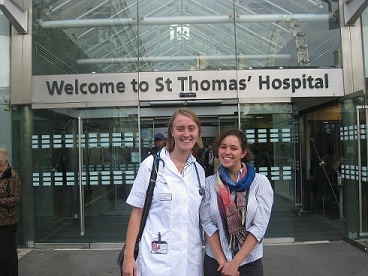 Sara (rep) and Tasha (National Student Council for London) outside St Thomas' Hospital - the 'T' of 'GKT'
<< student contacts in your area
Student Link: a medical student who provides a link between the student group and national CMF and is actively involved in running the local group.
Medical School Link: a graduate doctor who supports the local CMF medical student group by being a point of contact for them, and by linking them with other doctors locally and CMF generally, in order to further the aims of CMF (discipleship, evangelism, mission, values).
National Student Council: a medical student and regional representative for CMF working with CMF student groups at each medical school.