Wales - Cardiff
Welcome! Our student CMF in Cardiff (Christian Medical Fellowship) exists to unite and equip Christian medics to grow in faith, speak for Jesus and serve others.
We aim to achieve this through meeting together monthly to discuss medical ethics, pray and provide encouragement to one another. Therefore, Christian medics are prepared to face challenges in healthcare with a biblical approach in accordance with their faith.
As well, this year we plan to have socials to connect medics at different stages of the course and attend conferences to provide further teaching and support. We are very excited for the growth of our network in Cardiff and would love to get to know you so please do not hesitate to get in touch with us on Facebook or email EvansB29@cardiff.ac.uk our secretary for 2019/20.
OUR FIRST MEETING:

Our first event of spring semester is a dessert social! - details in poster below: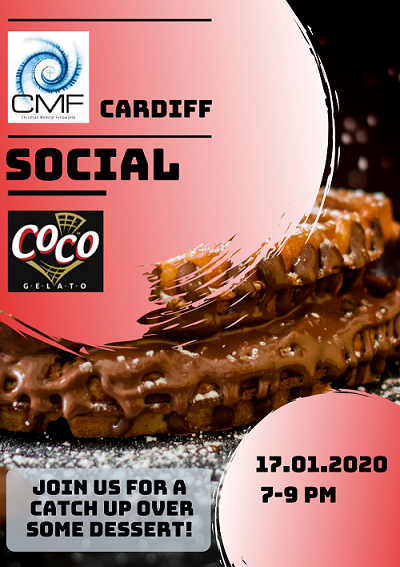 You can book your ticket for our day conference Saline solution now!: https://www.cmf.org.uk/doctors/events/saline-solution-cardiff/ .
You may have thought about the unique opportunity to not only improve your patients' physical health but their spiritual health as well. However, this does raise the common questions seen above.
-Don't worry! Luckily, Cardiff CMF is privileged to be able to host the conference to help answer these questions and enable us with the right tools to bring faith into work! This will help provide opportunities in your careers to move one step closer to a relationship with God with your patients through recognising opportunities to reach them with his gospel, with due respect and sensitivity.

This conference is on the 7th March - it only costs £10 for students and lunch + refreshments will all be provided! It is for ALL christian healthcare students (medics, midwives, nurses, OTs, physios, dentists + more!) We encourage you to click on the link to the event to watch a video about the conference (https://youtu.be/gISkz9tlZrQ)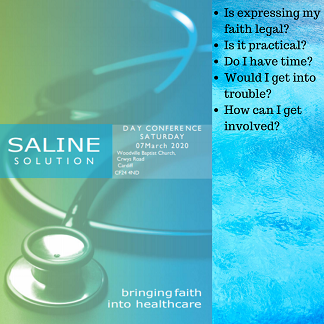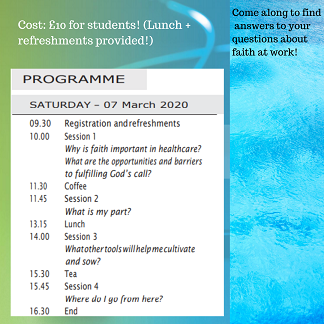 PREVIOUS MEETINGS = REFLECTION OF AUTUMN 2019!
We had a brilliant term where we had a stand at the freshers fayre, a social with Healthcare CU and 3 main meetings:
*MEETING 1: Talk by Dr Peter Evans: Life as a Christian medic from Student to GP*
-We had a dessert night and Dr Peter Evans shared some encouraging words before his main talk:
*MEETING 2: Is your worldview healthy?*
-We were grateful to be hosted by a local surgeon where we had wonderful home-cooked food and then we had great discussion on the concept of worldview and what that means for us in society, Christianity and healthcare!
*MEETING 3: Faith and Psychiatry: What Christian Psychiatrists can offer the Church and the World*
-Our final meeting of 2019 we had a chips 'n' dips ! Dr Chen gave a fantastic talk looking at the importance of valuing and understanding mental health issues as doctors, how we can use this to help the church and why Christianity has something important to offer to a secular view of what it means to be human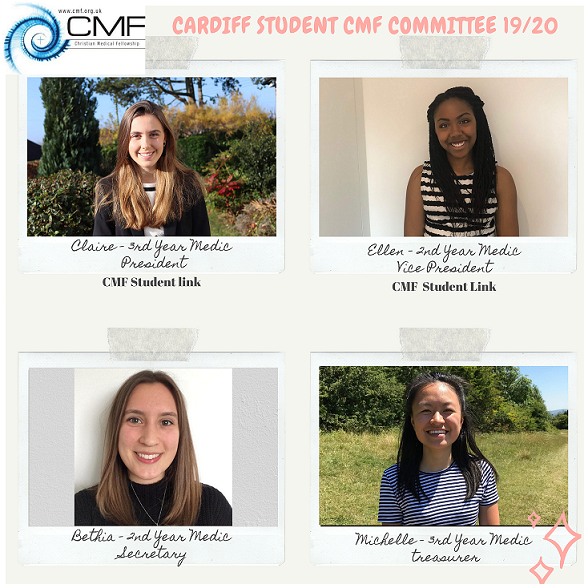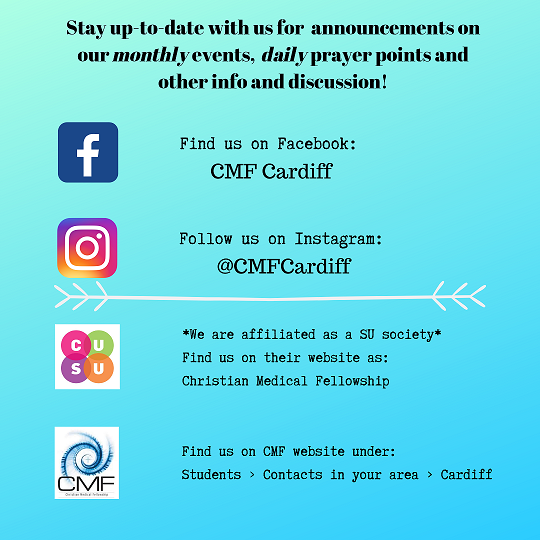 We look forward to seeing you!
<< student contacts in your area
Student Link: a medical student who provides a link between the student group and national CMF and is actively involved in running the local group.
Medical School Link: a graduate doctor who supports the local CMF medical student group by being a point of contact for them, and by linking them with other doctors locally and CMF generally, in order to further the aims of CMF (discipleship, evangelism, mission, values).
National Student Council: a medical student and regional representative for CMF working with CMF student groups at each medical school.