students - events
Student Conference 2022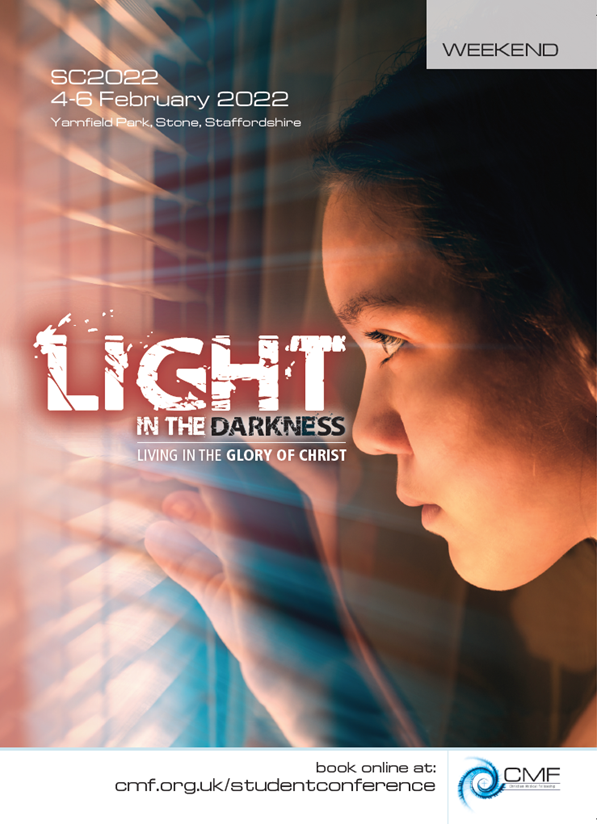 When: 4-6 February 2022
Where: Yarnfield Park, Stone, Staffordshire
Hosted by: CMF

Click here to book online.
Seminar descriptions
To download the PDF, right click on the link above and select 'Save Target As...'
Light out of the darkness: Living in the glory of Christ
As medical, midwifery and nursing students, we all too clearly see the darkness in this world. It is a privilege to study for a profession that aims to alleviate some of this, but that in and of itself can makes us prideful and self-reliant.
Written by Paul to the church he founded in Corinth, 2 Corinthians is a helpful reality check for the healthcare student of today. Paul's life and ministry, his seeming un-impressiveness, imitates and points to the cross. The Paradox of the cross turns upside down our ideas of glory and success, it challenges our values and the way in which we see this world. When we truly grasp who Jesus is and what he did for us on the cross, then we will be able to live as transformed followers shining his light in medicine, midwifery and nursing.
Revd Dr Jason Roach will be delivering our main Bible talks from chapters three, four and five of 2 Corinthians, and helping us as medics, midwifes and nurses to see what living in the glory of Christ looks like in our lecture theatres, on placement and beyond. Jason is pastor at The Bridge, a church plant based on a housing estate in Battersea, inner London. He is also advisor to the Bishop of London on public policy and strategy. In 2012 he founded the RISE leadership academy, a church initiative that exists to nurture and develop leadership potential in young black men. Before ministry life, Jason studied medicine at Guy's hospital, was editor for the student BMJ, and as a junior doctor continued to work in medical journalism.